How-To
Cooperative Craftsmanship
Distinctive wood detailing, tile work, stained glass, and carving in a California living room.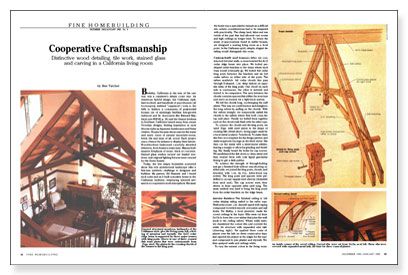 Synopsis: A description of a project in Berkeley, California, that reflects careful craftsmanship and the area's historic bond with Arts and Crafts-era building. The emphasis is on exposed-timber roof framing and a richly detailed staircase.
Berkeley, California at the turn of the century was a carpenter's dream come true. An American hybrid design, the Craftsman style,had evolved, and hundreds of practitioners (affectionately dubbed "carpitects") took to the hills to fashion a community of peak-roofed houses out of seemingly limitless first-growth redwood and fir. Innovators like Bernard Maybeck and the Greene brothers in Southern California turned away from ornate Victorian designs, finding inspiration in such diverse styles as Japanese farmhouses and Swiss chalets. Houses became showcases for the warm and rustic tones of natural materials—stone, brick, tile, and most of all, wood. Each project was a chance for artisans to display their talents. Woodworkers fashioned carefully detailed elements, from beams to staircases. Masons built massive fireplaces of stone, brick, or concrete. Stained-glass studios turned out leaded windows, and original lighting fixtures were created for the finest homes.
Today, the few empty home sites scattered about this rich architectural landscape offer a first-rate aesthetic challenge to designers and builders. My partner, Ed Hazzard, and I found such a site and on it built a modern home in the Craftsman tradition, employing talented artisans in a cooperative work atmosphere. Because the home was a speculative venture on a difficult site, artistic considerations had to be tempered with practicality. The cheap land, labor and materials of the past that had allowed vast rooms and high ceilings no longer exist. To retain the sense of spaciousness found in earlier houses, we designed a soaring living room as a focal point. In the Craftsman spirit, simple, elegant detailing would distinguish this room.
Custom-built roof trusses
After we constructed 2×4 stud walls, a crane hoisted the 4×12 cedar ridge beam into place. We bolted preshaped cedar brackets to the beam where each truss would eventually go. We bolted 4×4 cedar king posts between the brackets and set 2×6 cedar rafters on either side of the posts. The rafters sandwich 1×6 cedar chords that pass through X-shaped dadoes on opposite sides of the king posts. One chord on each side is continuous, the other is mitered and butted to its companion. The area between the chords contains spacers that stiffen the structure and serve as mounts for a light-track system.
We left the chords long, overhanging the wall plates. This way we could tension and straighten the long rafters by pulling on the chords. With the rafters straight, we temporarily nailed the chords to the rafters where they both cross the top wall plate. Finally we bolted them together and cut the chord ends flush with the rafter tops.
To connect the chords and the king posts, we used 12-ga. mild steel plates in the shape of crossing fish made by a local metal sculptor, Tatachook. To make them, she first cut a template for the design pattern and made soapstone tracings on the sheet metal. She then cut the metal with a sheet-metal nibbler, leaving a margin to allow for grinding and finishing. She finally bored the holes for cap screws. We sandblasted the fish down to clean metal and then treated them with cold liquid gun-metal bluing to get a dark patina.
For more photos, drawings, and details, click the View PDF button below:
View PDF