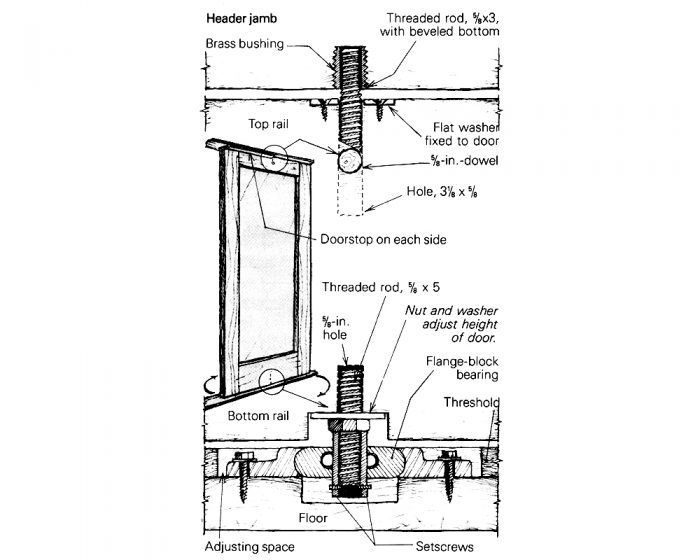 I've always admired Frank Lloyd Wright's use of center pivot doors arranged in a row. When open, they show only their edges, allowing the wall to disappear.
Recently I wanted to use three such doors to divide a living room from an attached solar greenhouse, so I hunted around for the proper hardware. Ready-made center pivot hinges were available, but they were designed for heavy commercial use and cost a hefty $200 apiece. Discussion with some friends led me to an industrial-equipment supplier, where I found something called two-hole, self-aligning flangeblock bearings, at only $12 apiece. With these bearings, another $10 worth of parts from the hardware store and a liberal amount of headscratching, the doors were swinging smoothly on their hinges.
I cut an oversize mortise for each bearing block into the threshold and floor to allow a measure of adjustability, as shown in the drawing. I used threaded rod for the top and bottom pins, and locked each bottom pin into its bearing with setscrews. A nut threaded onto the pin rests on top of the bearing's inner race sleeve and carries the door load with the help of a large flat washer.
The self-aligning feature of these bearings allows the shaft to swivel, making installation of the door easier by letting you tilt the bottom pin out (this can also be done by leaving the mounting screws out and tilting the whole bearing until the door is in place). The screw holes are mounted parallel to the door so they are exposed when the door is open.
During installation the top pin drops into a hole drilled in the top rail. When the pin is in place, it is retained by a dowel. Once the door was in position, I inserted a screwdriver into the dowel hole, levered the pin into its jambmounted brass bushing (an outside-thread plumbing nipple) and then drove the dowel home.
Click here to enlarge illustration
—Robin Mark Freeman, Berkeley, CA
Edited and illustrated by Charles Miller
From Fine Homebuilding #10