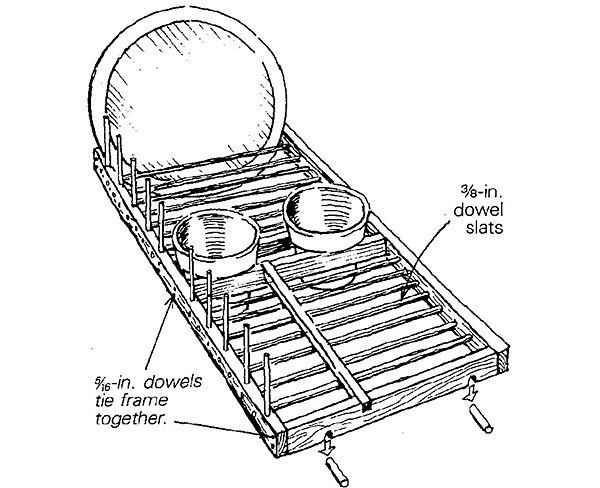 Our kitchen counter had about 6 sq. ft. of usable space on one side of the sink, and virtually none on the other side because of a bulky dish drainer. I reclaimed the drainer spot by building the European-style over-the-sink dishrack shown in the drawing.
I made the rectangular frame with 2-in. by 3/4-in. mahogany, and doweled the parts together with 5/16-in. maple dowels. The two crosspieces in the center of the frame cradle the silverware containers — two terracotta flower pots. Scrounged from the garden and scoured back to their original brownish red, the pots look good, hold a generous helping of flatware and come with their own drain holes.
The cross slats are 3/8-in. maple dowels, about 1-1/2 in. on center. The spacing of the slats and the width of the frame were determined by the diameter and depth of our dishware. At one end, I let a curb into the frame perpendicular to the dowel slats and resting on top of them, to keep small plates from falling through.
Vertical dowels about 6 in. long across the front of the rack are for glasses and mugs. The entire rack rests on four dowels drilled into the ends of the cabinets above the counters on either side of the sink.
I tapered the dowel ends slightly with 80-grit sandpaper to ease assembly. Then I tapped the entire rack together without any glue, reasoning that the constant exposure to water would swell the unfinished wood and hold the parts snugly together.
—Charlie Woodhouse, Kensington, CA
Edited and illustrated by Charles Miller
From Fine Homebuilding #12