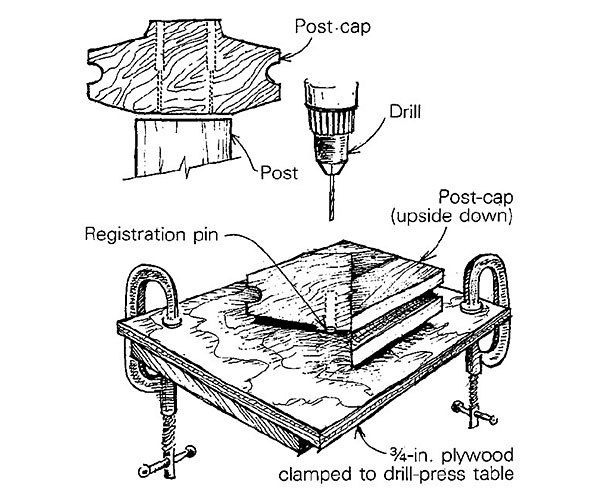 While installing a set of oak posts and guardrails, I ran into a problem; The ornamental post-caps were over 4 in. thick and required four screws to attach them to the posts. Each screw had to be countersunk into a 1/2-in. by 2-in. hole, and because my 11/64-in; twist-drill bit was too short to reach through the thick caps, I had to drill from opposite sides. The holes had to be aligned, but the complex shape of the blocks made it hard to transfer the layout from one side to the other.
To solve this problem, I began by drilling the four holes in the top of the post cap. Next, I clamped a piece of 3/4-in. plywood to the drill-press table, making sure that the table was perpendicular to the axis of the drill. Then I used my 1/2-in. bit to drill a hole in the plywood. I plugged this hole with a 1/2-in. dowel, leaving about 1/8-in. protruding — this became my registration pin.
Without moving the drill or the plywood table, I reinserted the 11/64-in. bit in the chuck, turned the post-cap over, and one by one, registered the in. holes over the pin. The pin located the exact centerline for each hole, and let me drill the remaining holes quickly and accurately.
—Mark Hallock, Arcata, CA
Edited and illustrated by Charles Miller
From Fine Homebuilding #16