How-To
Remodel Plumbing
How to connect the new pipes to the old ones.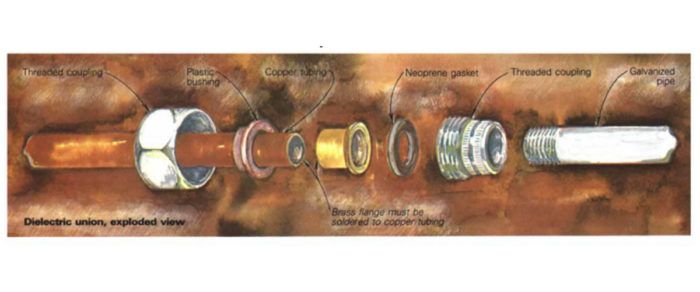 Synopsis: A guide to techniques and materials that allow new plumbing lines to be connected to old ones, not necessarily of the same material. It would be especially helpful for anyone working around old houses, where some worn-out plumbing invariably needs replacement.
At some time in just about every remodeling job, new plumbing has to be joined with the old. You might be replacing a corroded supply line, plumbing a bathroom addition or relocating the lines for a remodeled kitchen. Most plumbers agree that remodel plumbing is far different from doing new work. Sometimes it's as simple as connecting new fixtures to the old lines, but often it's an excruciating exercise in Murphy's Law. The old-pipe diameters aren't the same as the new ones, the pipes aren't made of the same materials and your workspace is ideal for a dwarf contortionist. Fortunately, these are common problems, and those who have been down this road before have figured out some good solutions. This article is a stew of advice, products and tools that can make your remodel plumbing connections work out for the best.
Checking out the old system
Before hooking into the old system, you have to look at what's really there. Check for obvious leaks and look for traces of rust or corrosion on the outside of galvanized fittings. Reduced water flow and rusty tap water are signs that the water-supply system may be ready to rupture. A rust-weakened pipe that might otherwise last for years will often break apart with the first torque of the pipe wrench.
Restricted flow can be caused not only by rust buildup but also by non-corrosive mineral deposits. But in either case, when you start knocking around the old pipes you will often dislodge enough crud to clog things up somewhere else. Make sure that the existing drain lines are working well and that they are properly vented and sloped before you tie into them. Your new work may be fine, but if it overloads a dying system, you'll be the one to inherit the problems.
Tapping into supply lines
If the old supply lines are in good shape, choose a place to tap into them that's close to your new fixtures. You'll also want to make sure that your tap-in location is easy to get at so that you won't lose time working in cramped quarters.
Most older homes have galvanized water-supply pipes, but I recommend using copper tubing for all new supply lines because it will last longer than galvanized and it's easier to cut and assemble. Some plumbers have switched completely to plastic pipe and fittings, since two new materials — chlorinated polyvinyl chloride (CPVC) and polybutylene (PB) — can even be used for hot-water supply lines. But plastic supply lines haven't been approved by many local building codes, so you'll have to check your municipal regulations before using them. For drain, waste and vent (DWV) lines, I always use plastic for economy and ease of work, and there's little code resistance to this.
For more photos, illustrations, and details, click the View PDF button below:
View PDF