Sawhorse With a Quick-Change Top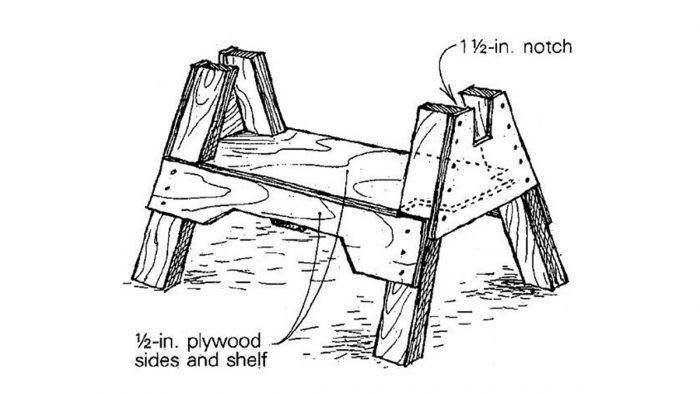 I made the sawhorse shown in the drawing out of scraps, and I like it better than any I've used in the past. Its main feature is a 1-1/2-in. notch at each end, which accepts a 2x crosspiece of any width. This allows me to replace this member easily when it gets abused. I can put in the exact height I need to match the level of a work table or bench. The notches also hold narrow pieces when I'm working on an edge. Two-by stock drops right in, and 1x material can be wedged tightly with shims.
To make the horse, I started with two 3/4-in. plywood gussets on the ends screwed and glued to 2×4 legs. Then I let in a 1/2-in. plywood shelf notched around the legs/The shelf bears on the 1/2-in. plywood side pieces, which go on last. By making one horse a little longer than its brother, I can tuck the shorter one into it for easier transport.
—Sam Yoder, Cambridge, MA
Edited and illustrated by Charles Miller
From Fine Homebuilding #18