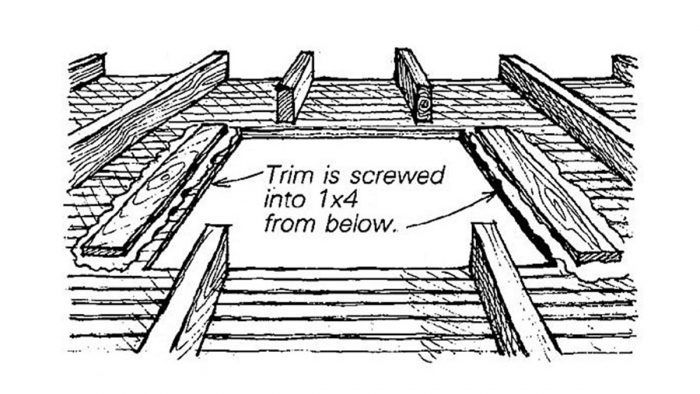 Recently I had to make a hole in a lath-andplaster ceiling for an attic fan. Of course the  location of the opening was determined by what looked good from below, rather than by the joist spacing. The existing ceiling was in good shape, and I wanted to keep it that way. Needless to say, cutting the hole involved sawing through a large swath of plaster — well away from the joists and without their solid backing. I'd rather spend a little effort in the beginning of a project to reduce a lot of timeconsuming repairs later on in the job, so I tried this improvisation.
First I marked the placement of the fan hole on the ceiling, and then I drilled four small holes at the corners. This let me clearly see from the attic what was going to need support for the upcoming cut.
Next I mixed up a batch of molding plaster (plaster of Paris) and poured two lines of the mix along the crosscut path that the sawblade would have to take to get through the lath and plaster. While the plaster was still wet, I laid 1x4s flat on top of the mix, as shown in the sketch.
Since the hole would need some picturemolding trim on the face of the plaster below, I went ahead before I cut the hole and installed this trim with screws that went through the plaster into the 1x4s. This captured the plaster in a clamping action between the trim and the 1x4s. Then I cut the plaster, lath and joists with a reciprocating saw.
James E. Power, Lawrence, KS