How-To
A Mortar-Bed Shower
Building the critical parts — the pan, the wall membrane and the mortar bed.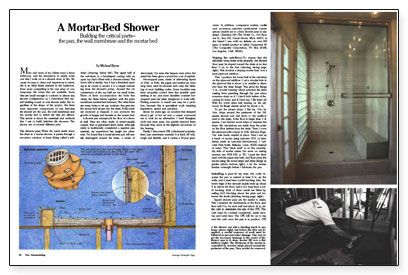 Synopsis: A classic tile shower is built on a mortar bed. Although newer materials like cement board are easier to use for shower walls in many installations, a mortar bed is a traditional technique that also has some advantages. This article explains how it's done.
More and more of my clients want a fancy bathroom, and the showpiece in nearly every one that I work on is a shower done in tile. Because it's easy to clean and impervious to water, tile is an ideal finish material in the bathroom. Even more compelling is the vast array of contemporary tile colors that are available. Some tiles are small enough to conform to almost any shower configuration, so I sometimes find myself building round or oval shower stalls. But regardless of the shape of the project, the three most important components of any first-class tile shower are the pan, the wall membrane and the mortar bed to which the tiles are affixed. This article is about the materials and methods that I use to build leak-free tile showers. The photos are of several different jobs.
The shower pan
When the water swirls down the drain in a mortar shower, it passes through a two-piece cast-iron or brass fitting called a subdrain. The upper half of the sub-drain is a hat-shaped casting with an open top that's fitted with a chrome screen. The lower half is similar, but it has a threaded opening in its center to secure it to a nipple extending from the shower's p-trap. Around the circumference of the top half are six small holes. Three of them accommodate the bolts that clamp the drain halves together, with the pan's membrane sandwiched between. The other three are weep holes to let any moisture that gets into the mortar bed escape into the drain. If this residual moisture is trapped, it can promote the growth of fungus and bacteria in the mortar bed.
A shower pan waterproofs the floor of a shower stall. Pans are often made of metal — usually copper, lead or galvanized sheet metal. Although metal is traditionally considered a superior pan material, my experience has taught me otherwise. I've found that a metal shower pan will usually disintegrate around the drain, a victim of electrolysis. I've seen this happen even when the metal has been given a protective coat of asphalt.
Hot-mopped pans, made of alternating layers of 15-lb. or 30-lb. felt paper and melted tar, have long been used for showers and carry the blessing of most building codes. Some localities may have air-quality control laws that prohibit open melting of tar, and some installers consider hot-mopped pans just plain dangerous to work with. Finding someone to install one may be a problem, because this is specialized work requiring experience, speed and precision.
About ten years ago, an accident that dumped about 4 gal. of hot tar onto a carpet convinced me to look for an alternative. I tried fiberglass cloth and resin pans, but quickly rejected them because they crack at the slightest movement of the framing.
For more photos, drawings, and details, click the View PDF button below:
View PDF