How-To
A Breath of Fresh Air
Making a Victorian screen door.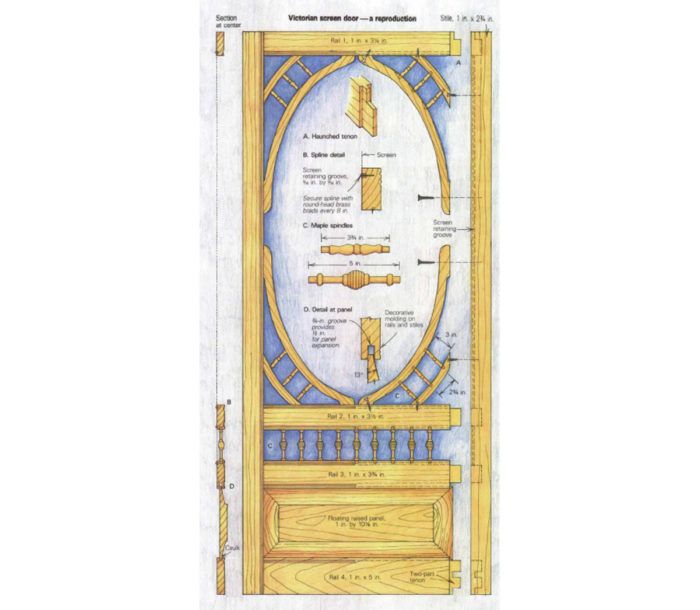 On a trip through southern Ontario, I was impressed by the number of carefully restored and lovingly maintained older homes. Wherever I looked, there were beautiful old doors — some were hand-carved, many swung on wrought-iron hinges, others had leaded lites. But it saddened me to see these original doors hiding behind standard aluminium combination storm-and-screen doors that lacked aesthetic rapport with their surroundings. Southern Ontario does require storm doors and screen doors in the appropriate seasons. Antique doors occasionally show up at country auctions, but they usually command exorbitant prices. Making such a door, however, requires only basic woodworking skills, and will provide you with a good excuse for an indoor project this winter and a welcome breeze next summer as well.
The door detailed in this article is a copy of a well-worn original. It consists of an inner oval frame enhanced by turned spindles, a separate lower decorative screened opening, and a raised panel at the base. The frame of the door may be joined by dowels (as was the original) or mortised and tenoned. I recommend the latter for its greater strength. You'll require a table saw, basic woodworking hand tools and a lathe. A bandsaw or saber saw will speed some of the work. Some of the cuts and grooves described below can also be made with a radial-arm saw, a shaper or a router.
Materials and hardware
Regardless of the wood you use — oak and pine are popular in Ontario — you'll need boards that dress out to a minimum thickness of 7/8 in.; 1 in. is preferable. Anything less will result in a flimsy door. Select wood that is dry (9% moisture content or less), straight grained, and quarter sawn if possible. You'll need about 18 bd. ft. of stock, and about 2 bd. ft. of 4/4 maple for the spindles.
For my door I purchased new hardware from Lee Valley Tools Ltd. (Ottawa, Ont., Canada). You might also take a look at their catalog of antique hardware. You'll need one 9-in. Chicago door spring with an adjustable tensioning device and a cast-iron screen-door set, which includes a mortise lock, knob, drop handle and strike plates. Make sure it is suitable for doors at least 1 in. thick. Brass sets are also available. Also get three standard butt hinges. Since I planned on alternating the screen door with a standard storm door as the seasons changed, the hinge leaves for each are identical in size and placement, and align with the leaves on the door frame. I have only to remove the pins to change doors.
For screening, you'll need enough to allow a 2-in. overlap on all sides of the opening. Bronze and copper screening (if you are able to obtain them) are strong, an important consideration if you have children or a pet or are plagued with squirrels. I used black anodized aluminium screening. It is easily installed and becomes almost invisible against the shadows.
Laying out the plans
Don't assume that your door frame is either square or plumb. Measure from corner to corner diagonally. If the diagonals are the same, your frame is true; otherwise you'll have to make allowances in the door. Measure the width and height at several locations, then make your screen door 1/4 in. shorter and 1/8 in. narrower than the opening. In calculating the length of your rails, remember that you need to add 3 in. for the 1 1/2-in. long tenons.
For more drawings and details, click the View PDF button below:
View PDF