Sheltered Woodshed
A removable panel makes loading firewood easy but protects the wood from rain and snow.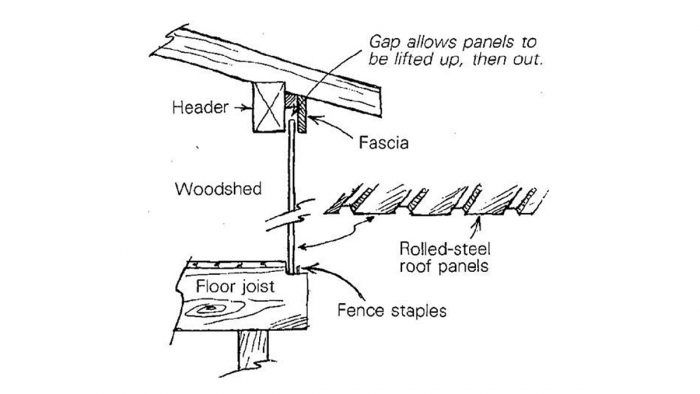 Our woodshed is near the driveway, where it is easy to load directly from our pickup. Unfortunately its loading bay faces into the weather, so I had to add a door to protect our firewood from rain and snow. As shown in the drawing, I used some leftover steel roofing panels that match our roof to make a removable wall.
At the top, the panels are held captive by the header and the fascia. At the bottom they are secured by the threshold on the inside and a row of fence staples on the outside. A space at the top of the panels gives me enough room to lift them out when I need to open the shed.
I've found that the 7-ft. high by 2-ft. wide roofing panels are sturdy enough to stand up to a strong wind. Lapped in the intended manner, they haven't leaked, and the structure looks right at home next to our house.
—Ron Milner, Grass Valley, CA
Edited and illustrated by Charles Miller
From Fine Homebuilding #36