How-To
Bricklaying Basics
Tools, materials, and techniques for building a brick wall.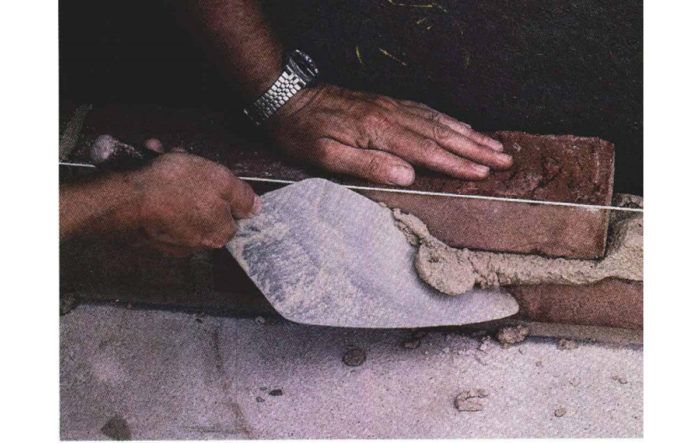 Synopsis: A thorough discussion of the tools, materials, and techniques needed to lay up a brick wall. This would be a good place to start for anyone who hasn't tried this job before. The list of tools that bricklayers use will be especially helpful.
The art of laying bricks in mortar to form a wall dates back thousands of years, and the tools haven't changed much over the centuries. Whether your project is simple or complex, laying bricks can be one of the most creative and satisfying of all crafts. Bricklaying is not complicated; the key to good work is consistency, accuracy, and repetition. This requires strict attention to details, such as the placement of your fingers when holding the trowel. With practice you develop a feel for the work.
You probably already have many of the tools you'll need—a steel measuring tape, a metal square, a ball of nylon line, a brush, a chalkbox, and safety goggles or glasses. For mixing mortar, you will need a wheelbarrow, a mixing box (for large batches), a water bucket, a 24-in-sq. mortarboard or pan, a mortar hoe (like a garden hoe, but it has two holes in the blade), and a hose with a spray nozzle. If a lot of mortar is to be mixed, utility drum mixers can be rented.
Mortar
A wall can be no stronger than the mortar it is built with. If the mortar is too weak, the wall will fail. If the mortar is too rich, it will be sticky and hard to handle with the trowel, and will be brittle when it hardens.
There are several kinds of mortar, but they are basically all composed of portland cement, lime, sand, and certain additives that make them more workable. The simplest to use is prepackaged mortar, which contains all the dry ingredients in the correct proportion; you add the water. Prepackaged mortar is fine for small jobs, but on a project of any size it is expensive. Mortar is mostly sand, and sand is inexpensive.
The most popular mortar for general use is made with masonry cement. It is sold in 70-lb. bags (with lime and certain additives included), and you add the sand and water when mixing. A good proportion to mix is 1 shovelful (part) of masonry cement to 3 shovelfuls (parts) of sand, with enough water to blend it to the desired stiffness. If you mix an entire bag at once (called a batch), use 1 bag of masonry cement to 18 shovelfuls of sand. Masonry-cement mortar is the most economical and has excellent handling properties.
With portland cement/lime mortar, you can adjust the strength of the mix by varying the ingredients. Building-supply stores sell portland cement in 94-lb. bags. The lime comes in 50-lb. bags and must be labeled "Hydrated" or "Mason's Lime," which means that it has been treated with water. This is stamped on the bag. Other types of lime are used for agricultural purposes. The portland cement/lime mortar mix I use is 1 part portland cement to 1 part hydrated lime to 6 parts sand and water. This is known as Type N mortar and is the standard mix for brickwork. After curing 28 days, this mix will sustain pressures of 750 lb. per sq. in., which is more than ample for most brick masonry.
For more photos and details, click the View PDF button below:
View PDF