How-To
Building Barrel Vaults Using Trusses and Plywood Gussets
Trusses and Plywood Gussets.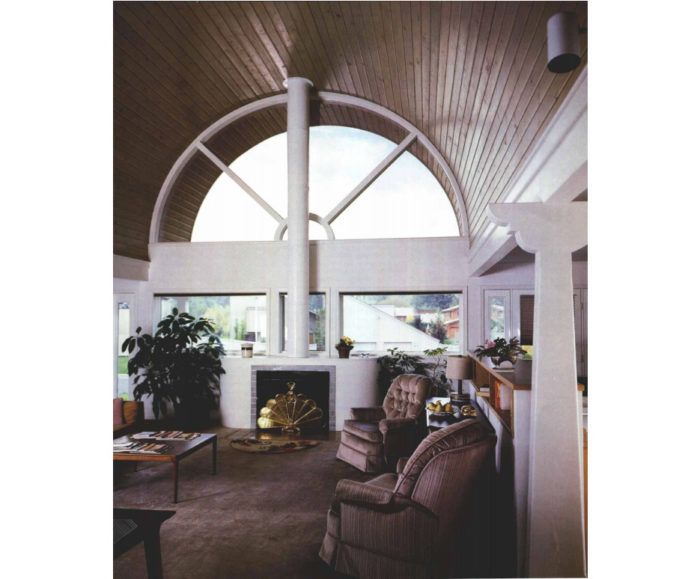 Synopsis: In this article, the first of two related stories on the same subject, an architect/builder describes a barrel vault made from roof trusses and plywood gussets.
When I design a house I don't usually start with a dramatic geometric shape already in mind. Most of my designs evolve from site determinants, function, client preferences, and budget. However, recently I built a house on speculation, and I wanted it to stand out from its conservative competition in suburban Spokane.
I had recently visited a small Episcopal church in Charleston, S. C. The nave of the church was dominated by a spacious great room with a voluptuous barrel-vault ceiling. This experience, along with a hankering to do some curved detail work, set me in a determined direction. Hopping on the post-modernist bandwagon, I designed a traditional gable-roofed house around a great room, with a vaulted ceiling front to back, a large Palladian window, and some whimsical columns and capitals.
Design
I made the vault 16 ft. wide because that seemed to be the smallest semicircular shape that was still a functional space. Because the rear of the great room was to have a balconied loft, the curved ceiling needed to be an average usable height. I considered an 8-ft. radius to be the minimum for this.
For visual impact I wanted the space to be open from the front of the house to the back. A 16-ft.-wide Palladian window at the front of the house and a 5-ft.-square window at the back (selected because of cost restraints) provide dramatic lighting.
The basic structure of the house seemed obvious once I laid out the central vaulted space, drew the roof pitch I wanted, and added supporting columns at the bearing points. By providing a minimum of 18 in. for insulation and ventilation at the narrowest point between the vaulted ceiling and the roof, the roof-truss configuration emerged. A 44-ft.-long house-width truss with a bite out of the middle would have been too flimsy to transport and erect. The truss fabricator suggested dividing the truss into two at the ridge line, with two parallel-chord sections cantilevered over the vaulted space to meet in the middle.
The design of the rest of the house fell into place quite easily, though with some compromises to the plan in order to keep the central vaulted space as a strong visual element. It was, for example, important to keep the vaulted space uncluttered by intersecting wall planes. Being a builder as well as an architect, I was eager to work out the details and start framing.
For more photos, drawings, and details, click the View PDF button below:
View PDF