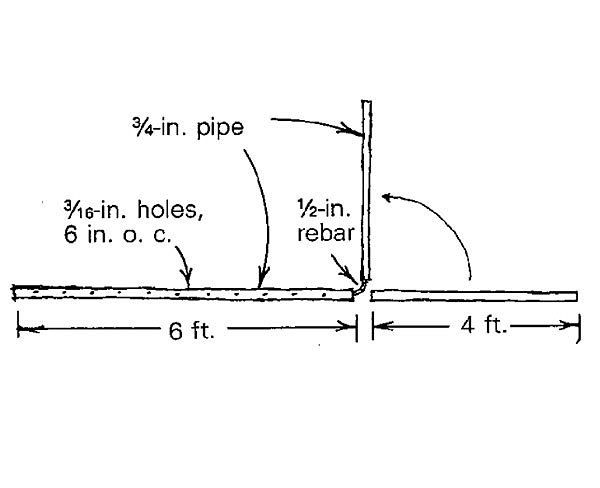 Recently I was forming footings for an addition and needed to rent a bender to put angles in the 1/2-in. rebar. It wasn't available at the local yard, so I improvised the simple tool shown in the drawing. It works well enough that for me, renting rebar benders is a thing of the past.
My bender consists of two pieces of 3/4-in. steel pipe — one 6 ft. long, the other 4 ft. long. In use, the 6-ft. length stays on the ground; the 4-ft. length is the lever. If I'm bending special pieces, I measure the rebar from end to bend, mark it, and slide the pipe over the rebar until the mark is between the two pipes. Lifting on the lever to the desired angle makes the bend.
For repetitive bends, I drilled a series of 3/16-in. diameter holes, 6 in. apart, in the 6-ft. length of pipe. An 8d duplex nail in one of the holes serves as a stop.
Dan Jensen, Tigard, OR