Site-built sheet-metal brake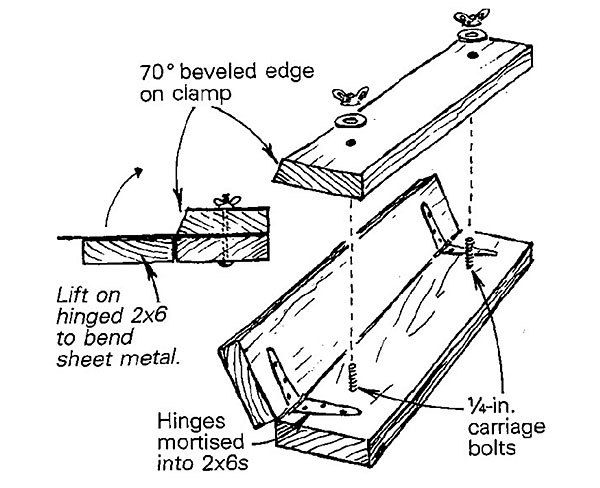 I needed a sheet-metal brake to bend some flashings, so I used some materials that were on hand to make it quick, simple and cheap. I began by cutting an 8-ft. 2×6 into three pieces of equal length. As shown in the drawing, I let a pair of strap hinges into mortises that I cut with my router toward the ends of two of the pieces of 2×6. Using my table saw, I took a 20° rip off the third piece, leaving me with a 70° beveled edge. This beveled piece (let's call it the clamp) is affixed to the body of the brake with 1/4-in. carriage bolts that are 3-1/2-in. long.
To bend a piece of sheet metal with the brake, I slip the sheet between the clamp and the neighboring 2×6. Then I tighten the wingnuts and lift up on the hinged 2x. Result: a nice, crisp bend.
William Boyce, Mukilteo, WA