How-To
Framing a Second-Story Addition
A quartet of gables is linked by California-style valleys.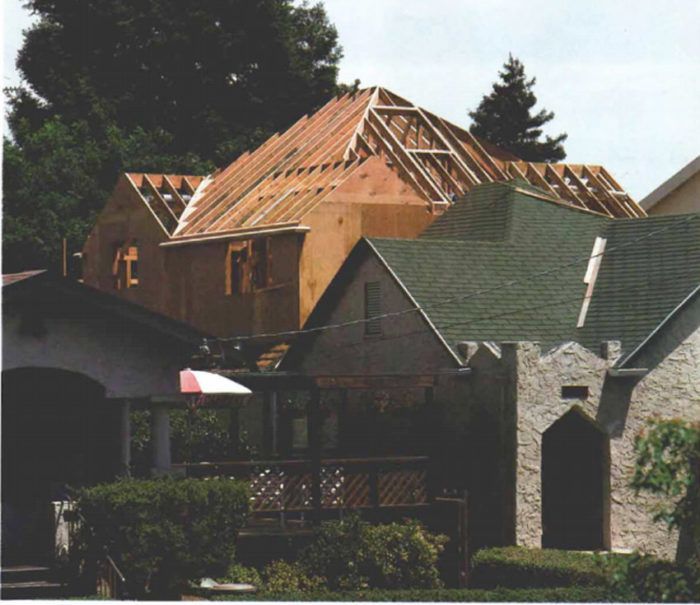 Synopsis: This article explains a particular type of roof used on a second-story addition for a small California house consisting of four gables arranged around a central hip roof. It was designed so that the new roof would not dominate the newly expanded building.
Almost every day the local refuse company parks a debris bin in front of some house in Albany, California. The bin usually means that a crowbar-wielding crew will soon arrive to tear the roof off the house, signaling the start of another second-story addition.
In this neighborhood of two-bedroom, wartime tract houses it's commonplace for families to add another level of living space atop their original house. Unfortunately, these additions often show little regard for the original shape of the building or the shadows cast across the neighbor's house and yard to the north. Recently, my partner Michael Keenan and I added a second story to a house in Albany that we think is in keeping with the style of the original structure. Our clients, Joe and Denise Lahr, felt that one of the reasons many second-story additions look out of place is that their height is out of proportion to the original house. To make sure their addition remained in scale with the rest of the building, the Lahrs wanted to keep the highest portion of the roof well back from the sidewalk, with the roofs stepping up as they moved toward the back of the house. The footprint of the original building was basically a rectangle, but it had an appealing roofline because its relatively steep 9-in-12 gable roofs intersected one another in a pleasing asymmetrical geometry of differing ridge heights.
The Lahrs' architect, H. M. Wu, met their needs with a second floor topped with an arrangement of four gables organized around a central hip roof. In plan, the configuration looks a little like a pinwheel. Each gable shelters a distinct part of the addition—one for the sitting room, one for the bathroom, and one each for the two bedrooms. In the center of the plan, a skylit stairwell leads to the upstairs hallway.
The architect kept the walls as low as possible by giving them a 6-ft. 6-in. plate height. Except for the hallway, each room has a cathedral ceiling, so the low plate doesn't make the rooms feel claustrophobic. The flat ceiling over the hallway is 7 ft. 6 in. high, which leaves enough room above it to run heater ducts for the upstairs rooms.
Hip rafters extending upward from the ridges of each gable meet at the main ridge, forming the tallest of the new roofs. This big hip roof links the four new gables, and repeats the form of the original hipped portion of the roof.
For photos, floor plans, and more information on framing a roof for an addition, click the View PDF button below. 
View PDF