How-To
Framing a Cold Roof
Preventing roof leaks caused by ice damming.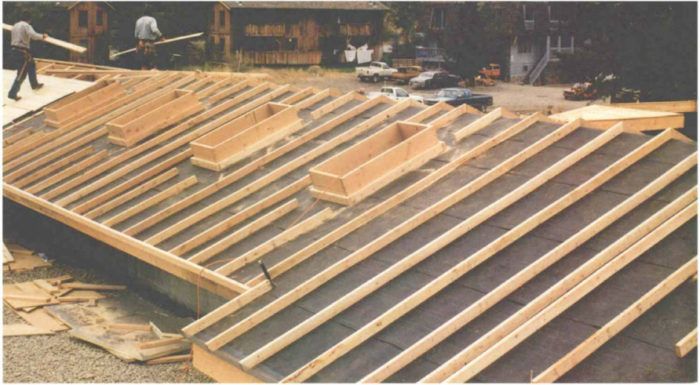 Synopsis: The author explains how he builds a double-layer roof that allows unimpeded air flow from eave to ridge, keeping the roof deck cold and preventing ice dams. Sleepers consisting of 2x4s on edge separate the two roof decks.
When I moved to Idaho's snow country after living in southern California and Hawaii, I had to learn a number of regional differences in construction. For one thing, it gets colder here, so we use 2×6 studs (at least) to accommodate R-19 insulation in the walls; R-30 is the minimum in our ceilings. I also learned to build what's known as a cold roof. Such a roof, paired with a Boston ridge vent, prevents ice damming and roof leaks.
The scenario for a leaky conventional roof in snow country goes like this. With temperatures below freezing, snow accumulates on the roof over a vaulted ceiling. Even if the roof is well insulated, enough heat escapes to melt the snow, causing water to run down the shakes, and when this water hits the unheated portion of the roof (the cold eaves), it freezes. This process happens over and over until ice dams and picturesque icicles form as water drips from the eaves. The icicles may be pretty, but big ones are evidence of a problem roof. When ice dams get big enough, they can cause the melted water to work its way back under the shakes and leak into the house. A constant freeze/thaw cycle resulting from uneven day and night temperatures can also contribute to this ice build-up.
Builders deal with the problem in various ways. Some run a waterproof sheet over the lower portion of the roof, under the roofing. W. R. Grace & Co. makes a sheet called "Ice & Water Shield" that can be applied directly to the roof decking.
You might think that metal roofing would seal out leaks caused by ice damming, but it doesn't. Mike Kimball, owner of Sun Valley Roofing, reports that metal roofing used on 4-in-12, 5-in-12, and 6-in-12 standard roofs can, and does, leak when ice dams form. On steeper pitches, the slick metal serves as a water barrier only because it encourages built-up snow to slide off (to crush unsuspecting bystanders, flower beds or car hoods… but that's another story). A product like Ice & Water Shield only treats the symptom, though; it doesn't cure the ice dam problem. To do that we build a cold roof.
For more photos and information on how to frame a cold roof, click the View PDF button below. 
View PDF