How-To
How to Create Artistic Brick-Mosaic Patios
Learn how to prepare the base, design patterns, and cut and install the bricks for a truly custom dry-laid brick patio.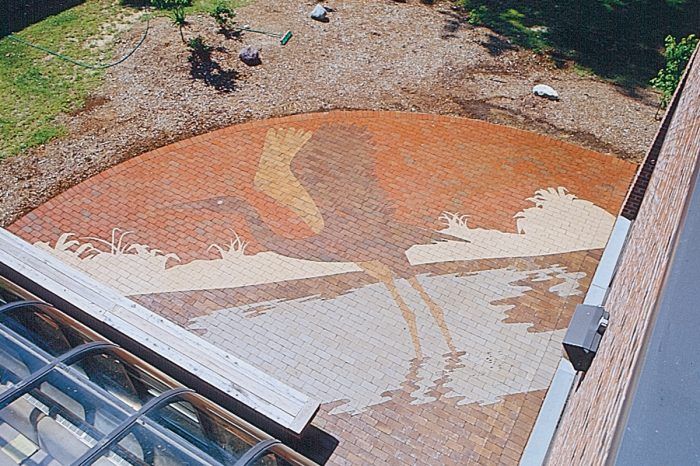 Synopsis: An itinerant craftsman describes the dry-laid brick mosaic patios he creates. Patterns created with colored brick and a diamond saw are time-consuming but can add a unique, custom look to any backyard.
"That was a memorable day to me, for it made great changes in me. But it is the same with any life. Imagine one selected day struck out of it, and think how different its course would have been. Pause you who read this, and think for a moment of the long chain of iron or gold, of thorns or flowers, that would never have bound you, but for the formation of the first link on one memorable day."—Charles Dickens, Great Expectations.
That day came the summer after I graduated from college with a degree in landscape architecture. I had been doing dry-laid brick work for nine years, frequently working curves into my patio designs. And when you make curves with brick, it usually means a bit of cutting. So I was doing just that, one warm June day, when my design background suddenly collided with my years of brickwork, and a strange idea popped into my head: if I took the piece of brick that I had just cut off and replaced it with an identically shaped piece from a different colored brick, I could create patterns and pictures.
A few months later I produced my first piece of "masonry art"—a form that's similar in concept to stained-glass, mosaic tile, and marquetry. That was five years ago, and since then I've come to specialize in brick mosaics. While the limitations are considerable, there's still room for a lot of creative freedom…and a lot of cutting.
Brick colors and types
After stumbling upon this concept, the first thing I had to do was find out what palette of colors was available. I spent many an hour strolling through brickyards, making mental notes on who had what colors and in which sizes. To date, my list includes basic red, several tones of brown and tan, grey, blue, rust, and white. Many of these bricks also come "flashed," which means that they have a range of colors or tones within each brick variety.
The trick is to find the colors I want, all in one size. An assortment of brick sizes won't make a tight pattern and cutting them to a uniform dimension is an excruciating job. Because of the need for consistent sizes, I like to get all of my bricks from one manufacturer. I use Glen-Gery bricks almost exclusively. Their bricks are high quality and come in a wide variety of colors.
As a rule, the lighter the color of the brick, the denser it is, making it harder to cut. The lays used to make these bricks are finer and contain less grog than the darker colors. These different properties allow me to make certain cuts with some bricks that just aren't possible with others. Harder bricks, for example, hold together better for fine detail work.
For more photos and details, click the View PDF button below:
View PDF