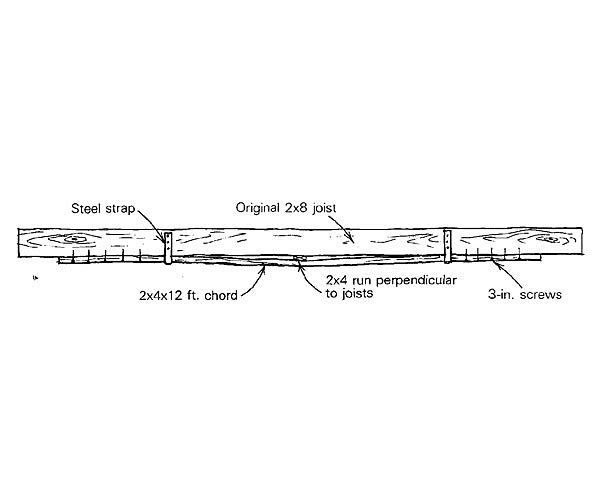 Anyone who has ever renovated an old house has probably dealt with a floor system that is a bit too springy. It seems that 2×8 rough-cut joists were once used everywhere, regardless of the span.
I recently started work on a home built in the 1890s that has 2×8 joists on 16-in. centers, spanning 14 ft. They were also installed without blocking and were beginning to twist in spots. The basement has a dirt floor but plenty of headroom and usable floor space, so I didn't want to add a midspan beam with columns. Beefing up the joists was the only answer.
For blocking, I ran a 2×4 perpendicular to the joists across their bottoms at the center of the span. With the butt end of the 2×4 against the foundation, I worked my way across the floor, plumbing the joists and screwing through the 2×4 into each joist to secure them.
Next I turned each joist into a bowstring truss. I used drywall screws, steel straps and construction adhesive to attach 2x4x12-ft. chords to the bottom of each joist, as shown in the drawing. I used five 3-in. drywall screws per side to pull the 2x4s into place over the block in the center of each joist. Then I added a pair of steel straps to get some fasteners working in shear in addition to withdrawal. This took only a few hours to do, and the floor now feels like it has 2×12 joists.
David Wallace, Annapolis, MD
Edited and Illustrated by Charles Miller
From Fine Homebuilding #64