How-To
Hybrid Cabinet Construction
This system combines traditional looks with efficient assembly techniques.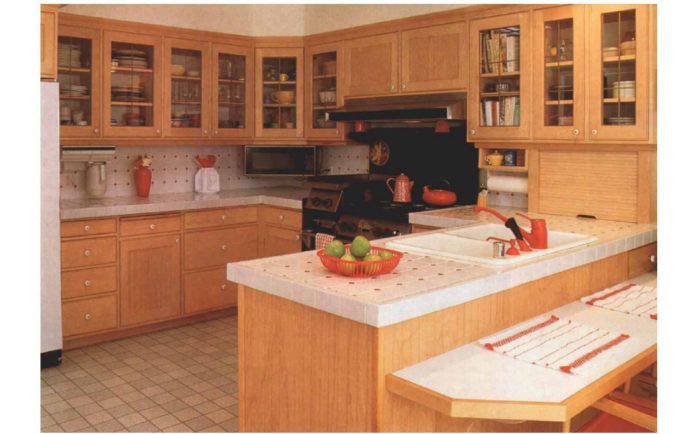 Synopsis: A finish carpenter adapts European-inspired cabinetmaking techniques to build a country kitchen with more traditional American styling. The article provides a quick look at some of the specialized tools and materials used to make frameless cabinetry based on the European 32-mm system.
By now, most Americans know what a typical European kitchen looks like: unadorned, monochrome surfaces separated by crisp joint lines. Besides the streamlined appearance, European-style cabinets are also noted for their accessibility and ease of cleaning. Nevertheless, the Kitchen Cabinet Manufacturers Association reports that the market share of plastic-laminate doors, characteristic of European-style cabinets, plummeted from 30% in 1980 to 19% in 1990.
To a woodworker like me who makes his best money building European-style kitchen cabinets, this was troubling news. I've found these cabinets to be incredibly cost effective to build, even in my one-man shop. They have no face frames to make and install; no complex case joints to execute; and no surface-mounted, nonadjustable hinges or sloppy drawer slides to fight with. Instead, modular cases, prefitted with hardware, are assembled quickly and easily using removable fasteners. The hardware, designed specifically for the European 32-mm system of cabinetmaking, not only offers ease of installation but also allows the fit of doors and drawers to be fine-tuned without removing and rehanging the components.
When Mark and Martha Ditchfield asked me to build them a "country" kitchen to complete their kitchen remodel, I decided it was time to apply the 32-mm system to the creation of traditional, "American-style" cabinets. This would allow me to use all the nifty specialty tools and jigs (not to mention the know-how) that I had acquired over the past few years. The challenge would be to create the look of face-frame cabinets with applied moldings and end panels that would work with the 32-mm system.
Design by mail
In preparation for new cabinets, the Ditchfields had gutted their old kitchen and pantry. I drafted two copies of the kitchen's floor plan at a scale of 1 in. to 1 ft., then sketched plan views of the upper cabinets on one copy and the base cabinets on the other. I located the stove, the refrigerator, the dishwasher, and the pantry first, then filled in the blanks with cabinets. Not including the pantry unit, lengths of individual carcases would range from 18 in. for a stack of drawers to 43-1/2 in. for the corner units, well within my tolerances (for ease of handling, I never build cabinet sections longer than 60 in.).
Country-style modules
The Ditchfields wanted their cabinets to be built of a light-colored wood with a natural finish, so I chose maple as the primary material. The maple would be lacquered to allow the grain and the color to show through.
For more photos, drawings, and details, click the View PDF button below:
View PDF