How-To
Taping and Finishing Drywall
How to get smooth walls with minimum sanding.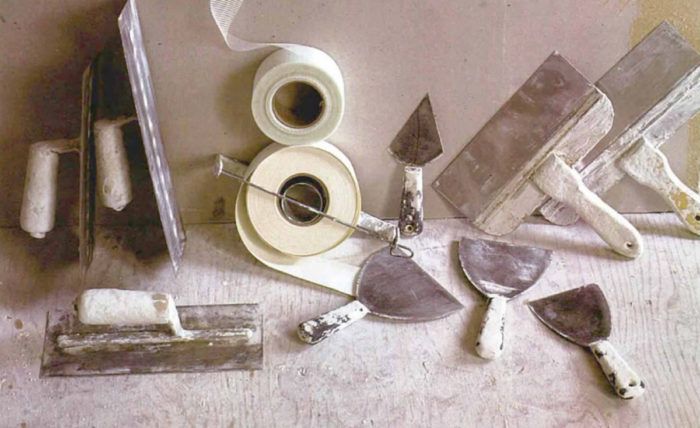 Synopsis: A step-by-step guide to applying tape and joint compound to gypsum wallboard. The author offers a thorough explanation of tools and materials that help produce smooth drywall joints with a minimum of fuss and a minimum of sanding.
Taping is the art of finishing gypsum drywall. It involves covering each seam with a strip of reinforcing tape and two or three layers of joint compound. Though I'm a builder rather than a drywaller, I've done my share of taping. Especially on small jobs and messy remodels — which describes most of my work — I finish the drywall myself. Sometimes it's impossible to find a good professional who can tape a small job on short notice; other times I just need the work. Fortunately, I find the change of pace refreshing.
Mastering the taping process can take years of practice, but with enough care and patience, I'm convinced that anyone can become an adequate, if slow, taper. I'm a good example. It takes me twice as long as a professional drywaller to finish a given room, but I've learned how to get professional results.
In this article I describe the tools, the materials and the techniques required to get a smooth drywall finish. The information here is based on my own experience, as well as on countless hours spent watching and talking with pros. If you're a beginner, I suggest that after reading this article you find some experienced tapers to watch. Taping is a kind of dance, and the best way to understand its movements and rhythms is to see it in action. After that you should be ready to venture out with a trowel in your hand — but practice on some closets first.
Tools of the trade
One nice thing about taping is that the tools are few and simple. Compound is hauled around on an aluminum hawk (a palette for holding joint compound) or in a metal or plastic pan. Some tapers spread joint compound with taping knives; others use trowels. Either way, you'll need four sizes: 6 in., 8 in., 10 in. and 12 in. Use a combination you're comfortable with (for reasons that have nothing to do with logic, I use a 6-in. knife, a 10-in. trowel and a 12-in. knife). If you buy trowels, make sure they're designed for drywall, not for concrete. A drywall trowel has a curved bottom that lies flat when you bear down on it. When properly used, it leaves a smooth finish and a nice feathered edge. Concrete trowels, on the other hand, are flat and will eventually bend in the wrong direction.
For more photos and details, click the View PDF button below:
View PDF