Tools & Materials
Operating a Power Trowel
Pressure on the handlebars controls the machine, and the angle of the blades controls the finish.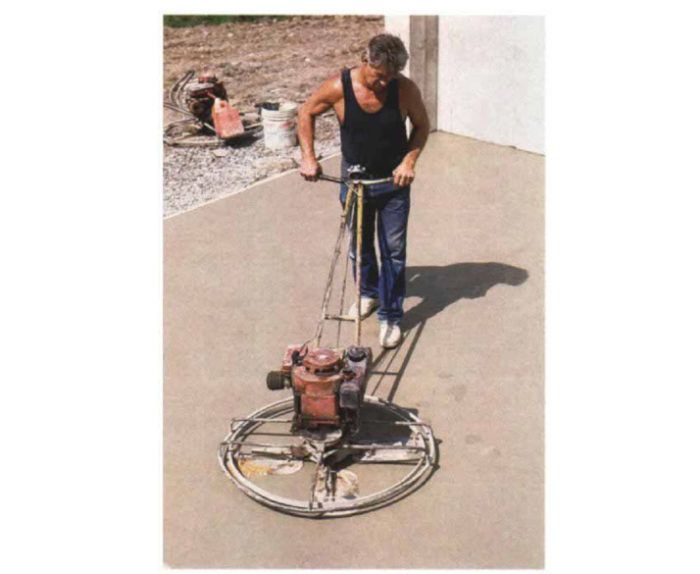 Synopsis: An addendum to an article on concrete slabs, this is a short description of how to use a power trowel.
I'll never forget the first time I used a power trowel. It was a big machine with a 48-in. dia. blade and a 12-hp engine. Luckily, plenty of experienced help was around to repair the damage done when the machine led me into an area of concrete that was still too wet to finish. What a mess. My short lesson taught me that you must know what you're doing before you use a power trowel. Here, I'll offer a few tips on operating the machine.
Opting for a power trowel
A power trowel, also called a troweling machine or rotary float, is a motor-driven concrete-finishing machine with revolving blades that smooth, flatten and compact a concrete slab. These tools are usually found on large concrete jobs. Most crews I've worked with used power trowels to finish slabs over 2,000 sq. ft.; for smaller pours, kneeboards and hand trowels were used. Still, the speed of a power trowel might be right for a smaller job, especially if you've got a small crew, or if you're pouring in hot weather or with a rainy forecast. And because a power trowel saves time on the finishing phase, it eliminates the temptation to add more water to the concrete during the pour, which makes for a better quality job. The relatively low rental cost of a power trowel in my area (between $40 and $60 per day) is easily offset by labor and time savings, tilting the balance toward a power trowel as an alternative to hand finishing.
A power trowel will not decrease the effort expended on placing, screeding and bull floating concrete. The machine saves time and effort only after the concrete is placed and leveled. A power trowel can float or finish 1,000 sq. ft. in about 20 minutes: about as fast as three or four good concrete finishers working on kneeboards.
Hand finishing still required
Basic concrete hand-finishing skills are still required, however, because a power trowel cannot finish flush against forms, get into corners or finish around recessed floor drains. So if you've never finished a concrete slab by hand, don't run out and rent a power trowel just yet. Practice hand finishing a few small pours — say between 250 sq. ft. and 500 sq. ft. — to ensure that you possess the necessary skills before you move up to power troweling. Besides, if the machine were to break down, your experience hand finishing concrete could save the day. Alternatively, consider renting a backup machine. Either way, make sure the machine starts at the rental yard before you bring it on site.
For more illustrations and details, click the View PDF button below:
View PDF