How-To
Simple Curved Corners
Bending plywood and joint compound make graceful curves in white walls.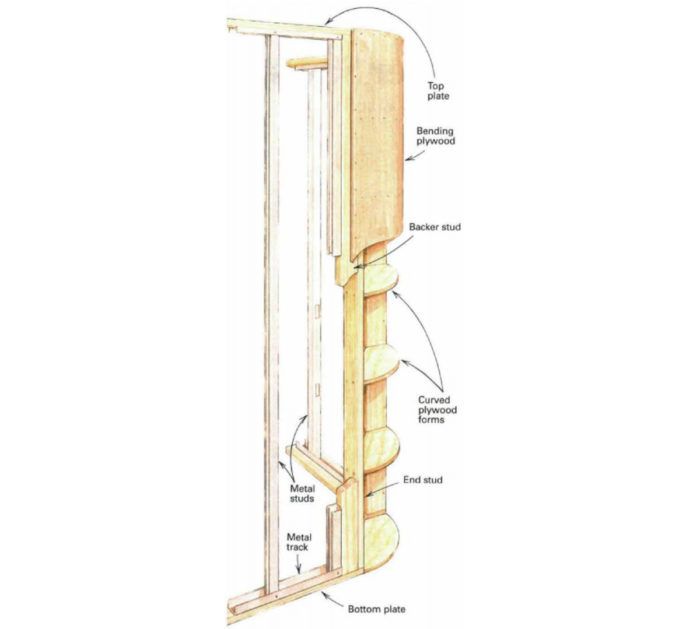 Synopsis: This short article explains how to use bending plywood and joint compound to make curved wall corners and window returns. Curved corners, the author notes, are friendly to small children and blend seamlessly with drywall.
When my brother told me he wanted to convert his basement into a playroom for his children, I winced. I knew he needed the help of a professional builder and that he assumed I would render that help for the relatively modest payment of lunches and dinners (and the periodic use of his services as a master electrician).
He was looking for ideas, and I had two good ones. My first good idea was to let my brother and his wife clean out the basement. My next good idea had to do with the framing. If this space was to be a playroom, how could we make it more playful and less dangerous? Two words: curved corners.
Considering the options
Tight-radius curves (2 in. or 3 in.) are easy to make if you use a drywall product called Gypcove (distributed by Pioneer Materials, Inc., Wichita, Kan.), but the larger-radius curves I had in mind for the walls and the window returns required something else. In the past, I framed curved corners with radius-cut plywood top and bottom plates that were ribbed with studs and skinned with two layers of 1/4-in. drywall. This drywall was wetted down to make it pliable, yet it still didn't bend smoothly; it pleated and took time to finish.
Although I didn't want to hang around at my brother's longer than necessary, and despite the fact that my brother is, well, a cheapskate, we liked the idea of curved corners. Luckily, a material called bending plywood offered a solution that saved enough on construction time to make it more than worth the extra cost of materials.
Bending plywood
I discovered bending plywood at my lumberyard, but it's more commonly obtained from suppliers of cabinet-making materials. Several species and thicknesses are available; we chose 3/8-in. three-ply mahogany. It cost me $28 per 4×8 sheet, but that was several years ago, and I was able to buy directly from a distributor. What makes bending plywood different from standard plywood is that it has only three plies, and the inner ply is much thinner than the outer ones. This makes bending plywood flexible. The thinner middle ply has its grain running perpendicular to the outer layers, which gives the plywood its strength. Some sheets are laminated with the grain running in the 4-ft. direction, others in the 8-ft. direction. The direction of the grain determines the direction the sheet will bend. As an experiment, I bent an 8-ft. sheet in a 6-in. radius. The creaking noise it made warned me to run for cover, but it didn't break.
I calculated that a single sheet would yield two 8-ft. high comers with a 9-in. radius. We had three corners and four window returns, so we bought two 4×8 sheets (grain oriented in the 8-ft. direction) and one 8×4 sheet (grain oriented in the 4-ft. direction) for window-return corners.
For more photos, drawings, and details, click the View PDF button below:
View PDF