How-To
Stone Veneer on Concrete Block
The right mortar and care in laying stone are the keys to a beautiful job.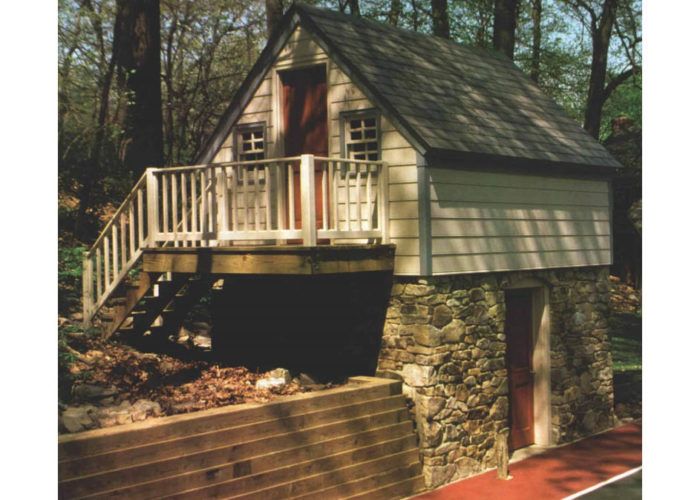 Synopsis: A designer-builder describes construction of a stone-veneered storage building styled after early American springhouses. Stone is applied to a first floor shell of concrete block while the second story is framed conventionally.
As a builder and sometimes stonemason, I welcomed the chance a few years ago to design and build a small outbuilding with a lower story faced in stone veneer. Designed to capture the charm of an early American springhouse, this small-scale project was a break from the additions and renovations that are the mainstay for my three-man crew and me. The job gave us a chance to practice different skills. And with the help of our French-trained carpenter and mason Nicholas Lombard, the job took only three weeks from start to finish.
Barry and Virginia Wood needed a garden shed-playhouse where their six young children could store bikes, toys and sports equipment. Barry favored a stone storage shed reminiscent of the outbuildings of homesteads in rural Pennsylvania and New York. Virginia liked the more formal wood-frame outbuildings found in colonial Williamsburg, Virginia. My design blends the two. The first-story walls are stone veneer over concrete block, and the second-story walls are wood frame with hardboard siding and painted trim. Stone arches over the windows and the door, which we laid up over temporary wooden supports, add an attractive architectural detail.
Stone veneer offers a builder more design flexibility and lower costs than solid stone construction. If we had used solid stone, the 8-ft. by 11-ft. building would have required walls 16 in. thick or more for stability and to meet building codes. But walls that thick would have elevated labor costs and diminished floor space. Instead, the lower walls of the building are 6-in. stone veneer over 6-in. concrete block. Where the outside walls of the building are concealed by a timber retaining wall, we used 12-in. block and no veneer. The veneer looks almost identical to solid stone masonry on the outside (although veneer of less than 6 in. thick looks weak at the corners — you might call it stone wallpaper). The tricks to making the job come out right are the right mortar mix and careful placement of stone.
First, the block wall
Before any stone could go up, we had to construct the concrete-block inner wall for the first floor. While our apprentice, Evan Johnson, mixed mortar, stacked blocks and sorted square-edged stones for use on the corners, Lombard built the door and window bucks. Bucks are the wooden frames used to make rough openings in walls for doors or windows. We made ours from 2×8 pressure-treated southern yellow pine, rabbeting the corners and assembling the bucks with screws and waterproof glue. The bucks must be square so that windows and doors will fit. We braced ours with diagonal 1x material so that they wouldn't be distorted as we laid block, stone and mortar against them.
For more photos and details, click the View PDF button below:
View PDF