How-To
Disappearing Attic Stairways
Folding stairs are the most common, but sliding stairs are easier to climb.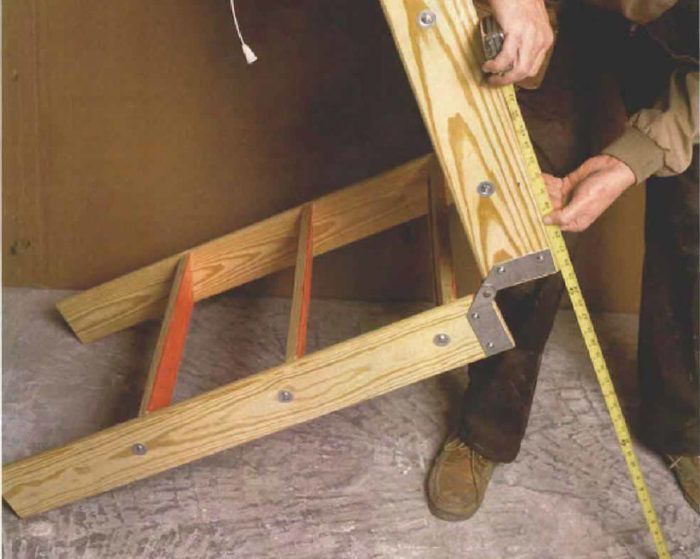 Synopsis: This article provides a look at several types of attic stairs that fold or slide up and out of the way when they aren't needed. The author discusses selection and installation and includes an annotated list of suppliers.
When I was young, and my mother wanted something out of the attic, she would push me up a stepladder and through a little access hole in the ceiling; it was a scary adventure for an 8-year-old, climbing up into a dark, cavelike hole where I thought unknown creatures waited to devour me. What we needed was a disappearing stairway.
Disappearing Stairways
Disappearing stairways are available in several styles. All of these stairways have a ceiling-mounted trap door on which the stairway either folds or slides. Nearly all are made of southern yellow pine, although there are a few aluminum disappearing stairways. There are a few commercial models made of aluminum or steel, but this article will concentrate on residential models. Disappearing stairways are not considered to be ladders or staircases, and they do not conform to the codes or the standards of either. Disappearing stairways have their own standards to which they must conform.
Similar to ladders, disappearing stairways have plenty of labels and warnings to read. On all disappearing stairways there are warnings about weight limits because, inevitably, homeowners fall down stairs while trying to carry too much weight into the attic. Also, labels tell the user to tighten the nuts and bolts of the stairway.
In one stairway manufacturer's literature, the word "safer" was used to describe the fluorescent orange paint used on the stairway's treads. But 'safer" was replaced by "high visibility" because one homeowner wore off the paint, slipped and fell. She sued both the manufacturer and the builder because, she claimed, the treads became unsafe to use.
Stairway companies are constantly testing, upgrading and improving their products to give the consumer the best, safest and longest-lasting disappearing stairway possible. And with good reason—over a million units were produced in the United States last year.
Folding stairways
The most popular style of disappearing stairways, folding stairways consist of three ladderlike sections that are hinged together, accordion style. The three sections are attached to a hinged, ceiling-mounted door similar to a trap door. The door and the attached ladderlike sections are held closed to the ceiling by springs on both sides. When you want to access a folding stairway, you pull a cord that is attached to the door and lower the door from the ceiling. The door swings down on a piano hinge. You then grab the two bottom sections of the stairway and pull them toward you, unfolding them. When the two bottom section are completely unfolded, all three sections butt together at their ends, giving strength and stability to the stairway.
For more on how to install disappearing stairways, click the View PDF button below.
View PDF