How-To
Choosing Roofing
Up in the air about using asphalt, wood, slate, tile, or metal to keep out the rain? There are lots of choices, and they all have advantages.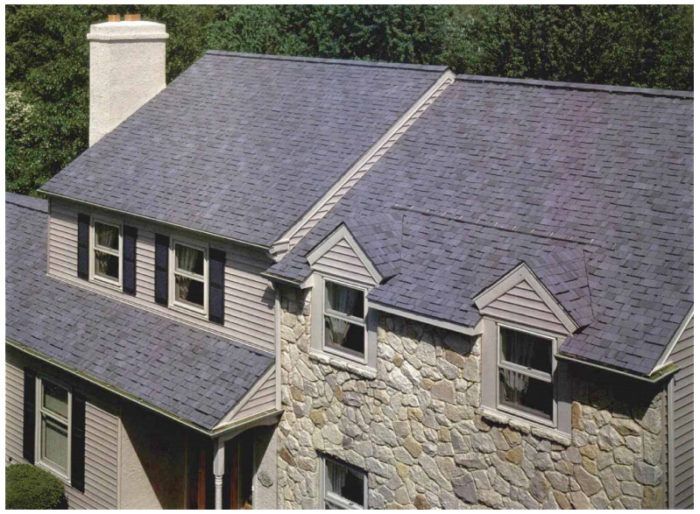 Synopsis: This article compares several types of roofing material on the market, including asphalt, slate, tile, wood, and metal. The author discusses the pros and cons of each.
A lot of roofing materials try to look like something else. When they first came out, asphalt shingles were touted as looking like slate. Today, there are metal roofs that are supposed to look like tile, and there are fiber-cement roofs that are supposed to look like wood shingles. Whether you're looking for a roof that looks like something else or a roof that looks like what it is—wood roofs really do look like wood—there are a lot of materials on the market, and they all have their benefits. Material costs and installation costs of some roofing materials are higher than others, but the payback is in their longevity or in their aesthetic appeal. What follows is a survey of the most common roofing materials available for steep-roof residential construction (anything greater than a 3-in-12 pitch).
The standard unit of measurement for roofing materials is the square. A square is 100 square feet of roofing. Manufacturers refer to their products on a per-square basis—cost per square, weight per square, etc. This article will use the same nomenclature.
Asphalt roofing is inexpensive and can be installed quickly
One story has it that the three-tab asphalt strip shingle, with its two grooves dividing the exposed face of the shingle into three sections, was invented by Fred Overbury in 1915 when he pulled a cardboard divider out of an egg crate and was struck with a brilliant idea. Before Overbury's invention, asphalt shingles were made as individual pieces and were installed one at a time. The strip shingle revolutionized the asphalt-roofing industry.
Today, asphalt shingles cover more residential roofs than any other material. Every year, 100 million squares of asphalt shingles are installed in the United States. That's more than 358 square miles, about the size of Lake Tahoe.
Asphalt shingles' popularity is due to several factors. They're fire-resistant, and choices of color and textures are numerous. They're relatively inexpensive both to purchase and to install; an experienced roofer can install 10 to 20 squares a day, depending on the intricacies of the roof.
On a sunny summer day, a black asphalt roof can reach a temperature of 150°F. As the temperature rises, asphalt shingles become soft and pliable. A sudden thunderstorm can cause the temperature of that soft, pliable roof to drop to around 60°F. That's called thermal cycling. If the asphalt shingles on the roof are going to continue to shed water, their reaction to thermal cycling has to be minimal. Of course they will shrink when the temperature drops. But they can't curl, and they can't lift off the shingle below.
All asphalt shingles share common construction: A reinforcing mat is impregnated with asphalt. Twenty-five years ago, fiberglass mats were introduced to replace the earlier organic-fiber mats. Although organic-fiber mat shingles still are recommended for areas with extreme winds, early blow-off problems with fiberglass-mat shingles have been eliminated so that, today, fiberglass mat shingles are the most common type sold.
For more photos and details, click the View PDF button below:
View PDF