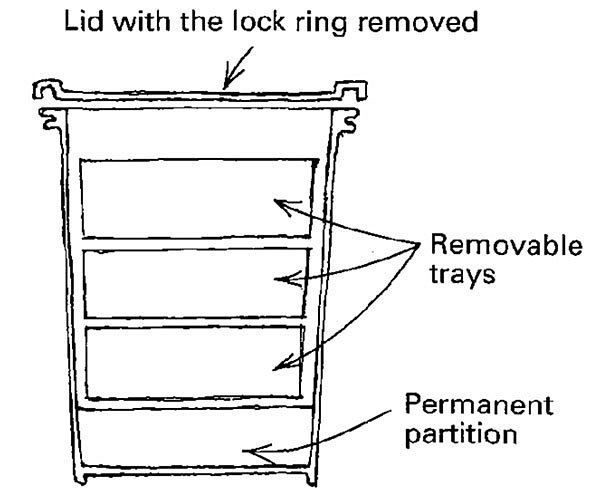 You can pack a lot of nails, screws, nuts, bolts and other assorted small parts into a 5-gal. joint-compound bucket. The problem, of course, is how to keep the parts separated from one another and easily accessible. Stacking trays are a good solution to the dilemma. The drawing shows how I made a set of them.
First, I use the tablesaw to cut the top lips off three buckets. I want the bottoms of the buckets for the trays, but when the top lips are still on the buckets it's tough to get a clean edge while cutting the trays. My second cut removes the bottom of the bucket. Then I adjust the height of the tray to accommodate whatever it is that I plan to store in it.
The partitions are made of 1x material, and they intersect each other in the middle by way of half-lap joints. As shown in the drawing, I use screws driven through the sides and the bottom of the tray to secure the wooden partitions to the trays. At the bottom of the bucket, I installed permanent partitions that are 3 in. deep to keep the lowest tray from getting jammed in the bottom of the bucket.
I capped my storage bucket with a lid that's easy to operate. The lids on joint-compound buckets have lock rings around their edges. The lock rings help to keep the joint compound from drying out, but they're a pain to pry open. So I removed the lock ring by running the lid over the blade on my tablesaw. As you can see in the bottom part of the drawing, I used a featherboard atop a couple of blocks to keep the lid tight to the fence during the cut.
Thomas E. Hunt, Wilbur by the Sea, FL