How-To
Framing With Steel for the First Time
A builder accustomed to wood framing tells about the differences between wood and steel construction.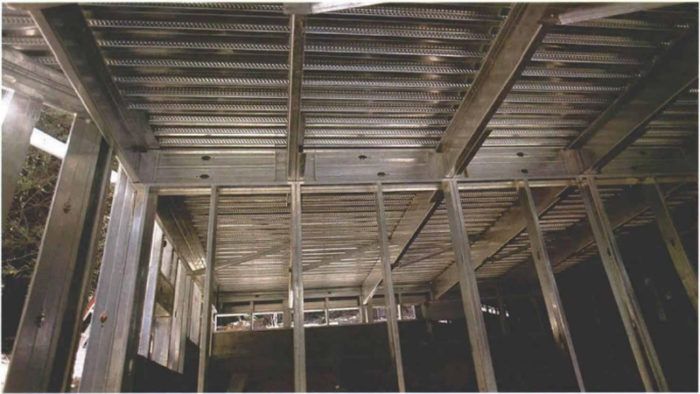 Synopsis: The author describes his first encounter with residential steel framing, showing how light-gauge components can replace wood. He covers cutting, assembly, and other parts of the job. A sidebar by a veteran steel framer offers advice for other first-timers.
Until two years ago, I'd spent my construction career building houses of wood. Then I got a tempting offer. My father-in-law, architect Berle Pilsk, wanted me to build his new house at Sea Ranch, California. The thought of spending a year living on the northern California coast and building a house in a redwood grove was enticing. The only hitch: The house was to be of steel.
Berle is convinced that steel-frame houses represent the next advance in residential construction. A steel frame doesn't rot, insects won't eat it, it won't bum, it resists earthquakes well, the parts are of uniform dimension, and perhaps best of all at this writing the cost of steel components is substantially less than comparable wood components on the northern California coast.
But I was skeptical. I like working with wood. It smells good, and it's easy to cut, shape and fasten. So before I took on the job, I spent a lot of time with Berle, going over the hypothetical construction of the house. I found a couple of steel houses that were under construction and studied them. I learned that a steel-frame house is essentially the same as a stick-frame house—the parts are just made of different materials. But there are some significant differences that you should be aware of if you're familiar with wood construction and if you're contemplating your first steel framing project.
A 2×6 is really 6 in. wide
Steel-framing members consist of two basic components that are C-shaped in section, with a couple of important differences. Studs, joists and rafters are made with members that have flanges folded inward about 1/4-in. at their open comers. These folds, while almost insignificant dimensionally, add stiffness to the members and make it easy for a stud to stand vertically. Studs come with prepunched holes in their webs for electrical conduits. Joists and rafters can have solid webs or be prepunched.
The other basic components are tracks. They have solid webs and lack the folded corners on the legs. Tracks work both as sill plates and top plates, and as part of posts or headers when combined with studs. Tracks also can be used for blocking and backing.
Like wood components, studs, joists, rafters and tracks come in various dimensions that differ in regular increments. But unlike wood, the dimensions are a net figure. In other words, 6 in. means 6 in. Studs are measured from their outside dimensions, and tracks are measured from the inside of their legs. So a 6-in. stud fits snugly into the track. Self-tapping screws driven through the legs of the track and the legs of the stud hold the assembly together.
For more photos and information on framing with steel, click the View PDF button below. 
View PDF