How-To
Installing Horizontal Wood Siding
A carpenter's tricks for accurately laying out, cutting and fitting the classic wood siding.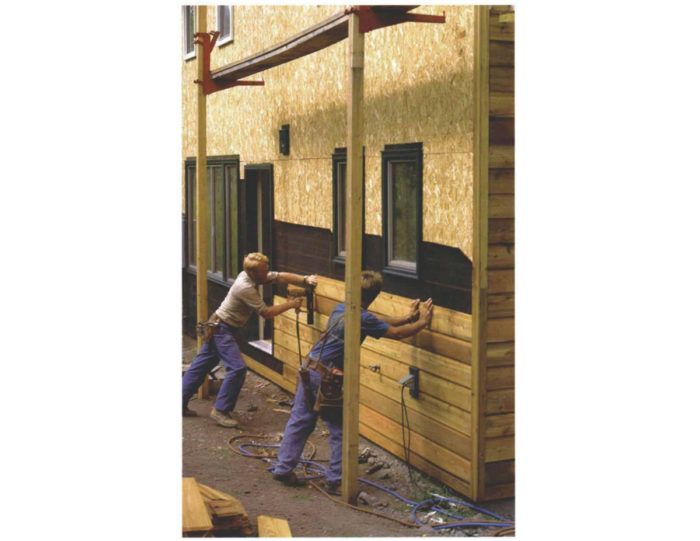 Synopsis: This article is a good guide for installing horizontal wood siding, including a description of how to make and use an on-site dip tank for pre-finishing the wood. An accompanying chart details nailing recommendations and coverage for four different kinds of siding.
I've installed a lot of wood siding during my 20-plus years in the building trades. And whenever I'm given the option, I prefer to install the siding horizontally. On the aesthetic side, I like the way horizontal shadowlines emphasize the shapes of houses. But more important, horizontal siding lasts longer than vertical siding, especially in wet climates. That's because water running down a piece of vertical siding inevitably hangs along the bottom edge for a while, where it can be wicked into the end grain of the wood. The result: rotted wood, peeling paint or both.
In this article I'll offer some suggestions for selecting wood siding, establishing a workable layout and then installing the siding. Here in southwestern Colorado, we typically side a house with rough-sawn, unpainted red cedar, such as the channel-rustic siding shown in the photos that illustrate this article. But the techniques I'll talk about are equally appropriate for painted clapboards on a colonial house.
The style of your house will strongly influence the siding pattern you choose and the grade of the material. For example, rough-sawn, knotty cedar or redwood evokes a rustic feeling. Clear, vertical-grain clapboards on a crisply painted colonial house, on the other hand, are more patrician. You can bet that patrician costs more than rustic when it comes to siding.
If you are budget-minded and if you plan to paint your siding, there is a relatively new composite product on the market called Inner Seal lap siding (Louisiana-Pacific, Portland, Ore.). Inner Seal is 7/16 in. thick, and it comes preprimed in 8-in., 9 1/2-in. and 12-in. widths. The pieces are 16 ft. long. I used Inner Seal siding on a house in the wet part of Oregon with good results. It paints beautifully, and it is stable and straight. I also like the fact that Inner Seal siding is top-nailed, which conceals the fasteners.
Ordering material and checking for defects
The pattern you choose influences the equation for determining how much siding you need. Measure the surface area of the walls to be covered, then subtract the square footage of the windows and doors. Refer to the chart later in this article to see what factor you need to multiply the footage by. Add 10% to this number for defects and waste, and you've got your siding total.
There are bound to be some defects in wood siding. Some are easy to spot, and some aren't. Some defects can be dealt with, and some can't. Discuss the grade of the lumber you want with your supplier, and agree before you place your order what is going to be acceptable.
Among the obvious defects are loose knots. Cut them out if they aren't too numerous, and use the resulting boards in places where shorter lengths are suitable. If loose knots are unacceptable in the grade you ordered, reject the material. In the premium grades, I think it's also fair to reject boards damaged by forklifts or the banding that holds the bundles together.
For more photos, illustrations, and details, click the View PDF button below:
View PDF