Better garage-door weatherstripping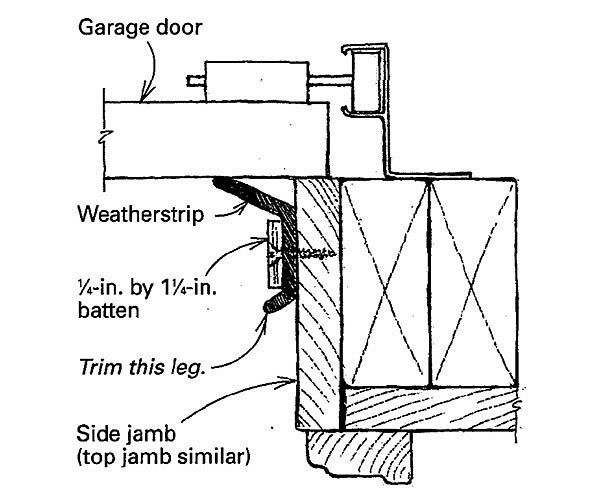 I've always been disappointed with the weatherstripping products for garage-door openings. In my experience, they're expensive and too fragile to accommodate the play in garage doors. The only piece of conventional weatherstripping that seems to work well is the heavy rubber strip designed to seal the gap at the bottom of the door. Frustrated at not being able to keep cold Minnesota winds out of the garages and shops I was building, I decided to modify this rubber strip and use it around the entire door. The results were so good that I've stopped using any other type of weatherstripping.
Door-bottom edge stripping is usually shaped like a flattened-out U with one long leg and one short leg. As the drawing illustrates, I install the stripping on the top and side jambs with the long leg lightly pressing on the door. I hold the strips in place with plywood battens 1/4 in. thick by 1-1/4 in. wide. Once the battens are screwed in place, I use a razor knife to trim the short legs flush with the battens.
Door-bottom edge stripping can be purchased at almost any building center. But most commercial garage-door companies carry a highquality stripping that they will often sell in bulk quantities at reasonable prices.
Gary E. Carlson, St. Paul, MN