How-To
Keeping Walls Steady in the Wind
With one-third of the exterior given over to windows, it took multiple shear panels, hold-downs and a wind beam to keep this home steady.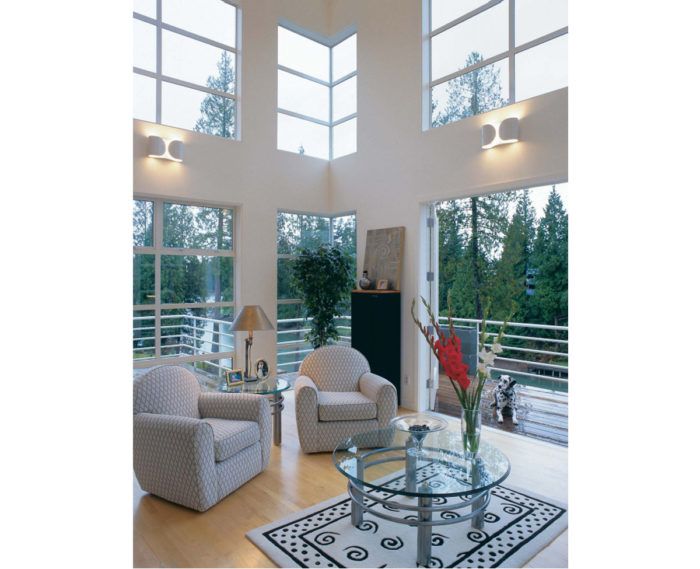 Synopsis: A builder explains the engineering principles and construction details that enabled him to build a tall, window-filled house on a steep lot in an area with a lot of wind.
Fifteen years ago, Sumner, Washington, was considered too remote from Seattle for commuting. But Tom Wooding bought a steep, nearly unbuildable little lot there on Lake Tapps anyway. He'd just graduated from college, had no immediate plans and just liked the area.
By the time Tom was ready to build, the Lake Tapps area had transformed from a cluster of camps, cabins and mobile homes to one of the most popular lakefront communities south of Seattle. His lakefront lot was now worth at least six times what he paid for it. That increased value meant that it would be worth building on, even if the building was difficult. Also by then, Tom and his fiancée, Tami, wanted to raise a family on the shores of Lake Tapps.
Ordinarily, their program would be fairly straightforward. But in this case, their dream home was to be built on a site that's 120 ft. from the lake and under strict code requirements for wind resistance. Also, the site has a 73% slope.
Architect Todd Lawson's solution was to give the Woodings a tall house full of windows. The house would be tightly engineered in a framework of hold-downs and shear panels, which would include a steel wind beam. Todd designed the house to sit — after much excavation — at the bottom of the steep hill that overlooks the lake. The top of the house would reach the hill, which is where the Woodings would park their cars and enter the house via a small bridge. My job was to build the house.
Glazing is 35% of the exterior, so the framing had to be strong
Given the height of the house, its lakeside location and its large area of windows — glazing accounts for 35% of the square footage of exterior walls — the need for resisting lateral loads and transferring those loads was the most significant design and construction concept of the project.
Because the house would be on a lake, code required an exposure-D rating for all construction. Section 1614 of the Uniform Building Code (UBC) defines exposure D as an area subjected to "basic wind speeds of 80 mph or greater."
The code extends this exposure inland from the shoreline 1⁄4 mi., so the Woodings' house was within the zone. This situation posed some serious issues for a house of this height that would include such a large number of windows. However, we were confident that the design was sound and that, tightly built, the house would be, too.
For more photos, illustrations, and details, click the View PDF button below:
View PDF