How-To
Putting Fiberglass Insulation in Its Place
Careful installation of fiberglass batts is likely to have a bigger impact on your life than tight-fitting miters.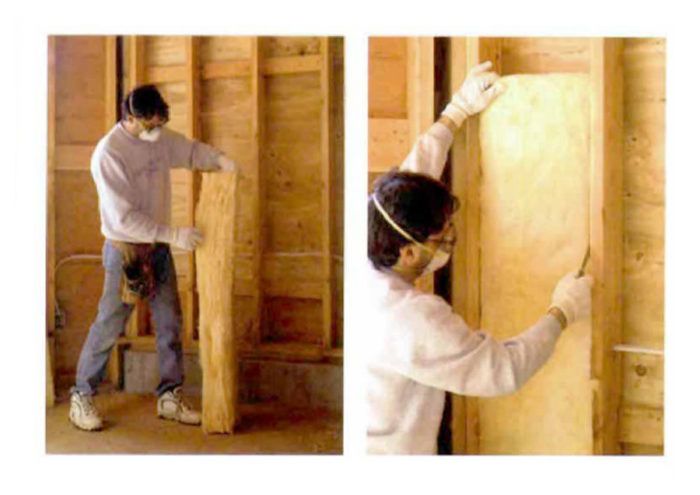 Synopsis: Fiberglass batt insulation works as advertised only when it's installed correctly, and this article explains how to do it. A sidebar in the PDF below discusses possible health problems associated with fiberglass insulation, although new research makes it somewhat out of date.
I like to play golf. It gives me an excuse to get outdoors, knock the ball around and get some sun. I also like golf because it's a difficult game. If I want improve my handicap, I have to work hard to avoid hooking the ball into the jungle or losing it in a water hazard.
Installing fiberglass insulation has nothing in common with golf except that it also challenges me to do better. Some people think that you can just pack the itchy stuff into a house any old way, but if you don't pay attention to some key details, the insulation can't do its job. That means you've just wasted valuable time and money that could have been spent doing other things. Although fiberglass faces increasing competition from other types of insulation and although there's been a fair amount of debate on the health hazards of fiberglass, it's still the most widely used insulation in the country. So if you're going to the trouble of installing it, you should know the proper techniques.
Get the right batts for the job—There are two basic types of fiberglass insulation: faced and unfaced. Each type comes either in continuous rolls or in packages of precut lengths called batts. Both types are roughly equal in price per square foot, but I prefer to use unfaced batts for most applications because they're faster to install; I take the batts out of the bag and friction-fit them into the bays, cutting only when necessary. Although I do use faced insulation for basement walls and some ceilings, it must be stapled to the framing, a time-consuming process, and it's easy to rip the paper covering, which defeats its purpose as a vapor retardant. Faced insulation is also flammable and cannot be used near potential heat sources.
To estimate the amount of insulation I need for a job, I measure the ceilings and walls to determine the square footage and divide by the number of square feet in a package. The coverage of each package of insulation varies according to manufacturer, R-value and width. For example, I prefer to use 16-in. wide, 4-ft. long R-19 unfaced batts; each package of batts covers approximately 100 sq. ft.
You'll notice that I specify 16 in. instead of the typical 15-in. wide batts. Usually available in most common R-values, these wider batts are made for walls framed with thinner-width metal studs; when used with wooden framing, that extra inch of width makes a good, snug fit between studs. You can usually get the wider widths from distributors that carry commercial in sulation. Before I start the major areas, I make sure that any openings between floors are fire-stopped with fireproof caulk, unfaced fiberglass or rock wool. Plumbing and wiring chases, flue chases, hearths and chimneys all need fire-stops. It's a good idea to check your local building code to find out what materials are specified for fire-stops and where you need to put them.
For more photos and details on installing fiberglass insulation, click the View PDF button below. 
View PDF