How-To
Danger Can Be a State of Mind
When it comes to job-site safety, your emotional well-being is as important as earplugs and safety goggles.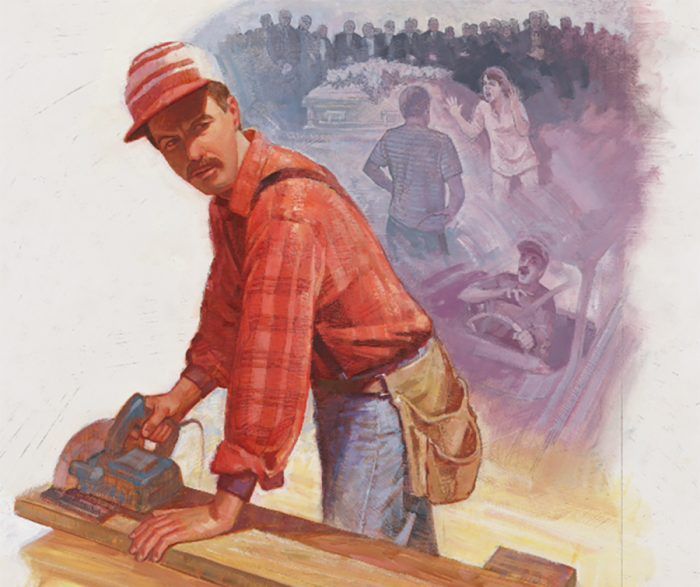 Synopsis: A short essay on how state of mind plays a role in job-site safety by a carpenter with four decades of experience. Good advice on a topic that doesn't get much attention — but undoubtedly should.
I remember working with a carpenter in the 1950s, building roofs on a tract of houses. He was going through rough times at home with his family. Every morning, his body was on the job at 7 a.m., but his mind didn't get there until about 10. During this three-hour period, he was basically, like the cars Ralph Nader warned us about, "unsafe at any speed." On two different occasions, he dropped a 2x rafter, nearly breaking my foot. To save my feet, I used to give him an early morning wake-up call by swinging a 2x around and rapping him on the shins—sort of a case of him or me. This story ended when he cut a huge gash in his forearm with a circular saw. It was in the days before 911, so I had to stop the blood flow, get him off the roof and take him to the emergency room. I never saw him after that, but I heard that he joined the fire department. I wished them well.
Anyone who works on a construction site ought to know that it's a potentially dangerous place to work. An injury on the job is not only embarrassing and painful, but it also can mean the temporary or permanent loss of income and even death. Bureau of Labor Statistics information shows that in 1996, more than ten out of every 100 carpenters were injured on the job; worse, nearly 600 construction workers lost their lives that year. Of course, some accidents do seem unavoidable, but most often, they happen because someone with a hard hat just wasn't paying attention.
What about mental safety?
Most of the articles I read on safety, including those from the Occupational Safety and Health Administration (OSHA), warn you to keep your workplace clean and to wear hard hats, knee pads, safety glasses, earplugs, dust masks and back braces. Keep tools in good repair, lift with your arms and legs and not with your back, don't drink or use drugs while driving nails. The list is endless, albeit important.
But safety is more than new brooms, proper clothing and sharp saws. Workers aren't muscle-and-bone machines that can be plugged in like power tools and expected to run safely all day long. We go to work with hearts and minds that need as much protection as our bodies.
I've worked in the construction trades for more than 40 years, and I knew from the first day on the job that I needed to wear protective gear. However, it took me a long time to figure out that when my feelings were intense, my mind would be elsewhere and that I had to be careful while working. During times of distraction, all of us are accident-prone.
For more details on job-site safety, click the View PDF button below. 
View PDF