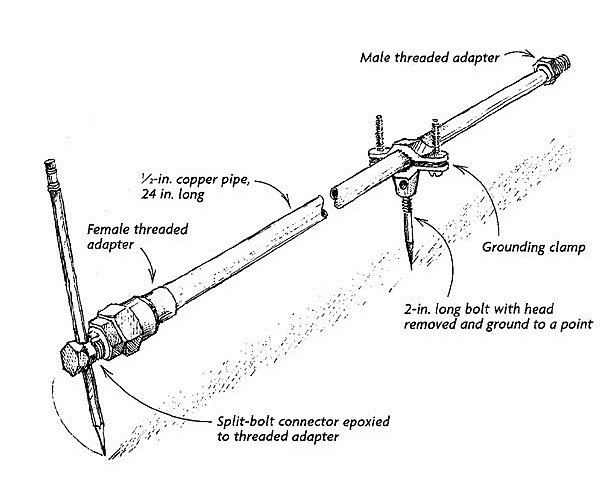 I used to work the graveyard shift at a company that made store fixtures. One night, at about 3 a.m., I had to lay out a sign for a restaurant. It was a big sign with a big radius, and I needed a way to swing an accurate curve. The company was well stocked with hardware from various trades, so I rummaged around plumbing-supply and electrical-supply bins, and came up with the device shown here.
I started with a 24-in. length of 1/2-in. copper pipe. I soldered a male coupling to one end and a female coupling to the other end. Next, I epoxied a split-bolt connector to the female adapter (split-bolt connectors are used in the electrical trade to make splices in wire, particularly the larger gauges where wire nuts are not practical). The hole in the split-bolt connector is just the right size for a pencil.
At the other end, a modified grounding clamp with a 2-in. bolt acts as a centerpoint. I sawed the head off the bolt, chucked the threaded end into my drill (being careful not to damage the threads) and used the drill in combination with a belt sander to put a point on the bolt. I ran the sharpened bolt into the grounding clamp and had my centerpoint.
Now it's just a matter of adding pipe sections with threaded adapters to get a beam compass of whatever length necessary. And if you prefer scribed lines, sharpen another bolt for a second grounding clamp, and use it instead of a pencil.
Edmund W. Avenia, Torrington, CT