Design
Contemporary Bungalow
Detailing and proportion are early 20th century; comfort and efficiency are right up to date.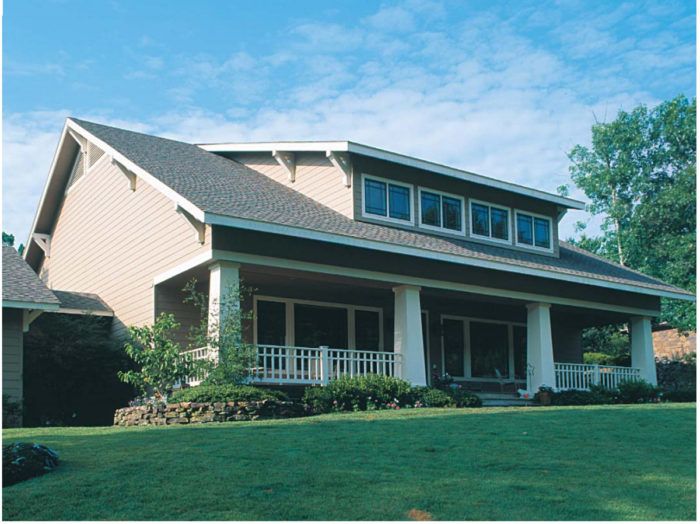 Synopsis: An architect describes how he designed a bungalow that has interior and exterior Craftsman details that give it a period look, yet still offers modern features, a large and bright kitchen, and an open, light-filled floor plan.
Bruce and Leah MacPhee had been living in their new bungalow-style house for about eight months when a thunderstorm blew through town one April evening. A bolt of lightning struck a tree near the back of the house, so close that to Leah it "sounded like an atom bomb." Firefighters guessed later that a surge of electricity jumped to a structural steel beam in the rear of the house, touching off a dozen small fires between the first and second floors. Although no one was hurt, little of the house could be saved. Devastated but not defeated, the MacPhees gathered their resources and built a nearly exact copy of what they had lost.
But then the MacPhees had always been sure of what they wanted. They had originally approached me in the fall of 1994 and asked me to design a house for their lot a few miles outside Hot Springs National Park, Arkansas. They are fans of the Craftsman style, and so am I. The MacPhees liked the signature detailing and feel of a classic Craftsman-style bungalow: the low-slope gable roofs; knee braces at open eaves; the fat, tapered columns on wide porches. But they didn't want turn-of-the-century Craftsman utility and comfort, meaning that plans had to include a well-equipped kitchen, energy-efficient windows, central air conditioning, and airy interior spaces.
As a result, their house is not really a historically accurate bungalow reproduction. Details are decidedly Craftsman in proportion and scale, but we tried to keep the spaces much brighter than the dark rooms of a typical bungalow. We looked closely at the Craftsman detailing of the early 20th-century architects Charles and Henry Greene as well as our native Arkansas buildings, which are rich in folk tradition, arts and crafts.
Big porches are a respite from the heat of summer
We framed the house in the side-gable style, a typical Craftsman form in which the porches are beneath the main roof, not built as additions to the house. Both front and back porches are an important part of the overall design. A traditional Arkansas house typically features a generous front porch. It is a spot where people can get together and enjoy cool evening breezes, and it offers protection from solar-heat gain on hot summer days (there are plenty of those in this part of the country).
For the MacPhees, the broad front porch accomplishes both of those traditional tasks. At the back of the house, a second porch built over a steep bank is more private. It includes a small screened area entered from a breakfast nook through a set of French doors. I added another pair of French doors to the porch in the master bedroom, and a double set of doors in the family room. In all, there are four separate entrances to the back porch—fully in keeping with a design tenet of traditional bungalows that took every possible advantage of outdoor spaces.
For more photos and details, click the View PDF button below:
View PDF