Drywall Screws as Cabinet-Pull Bolts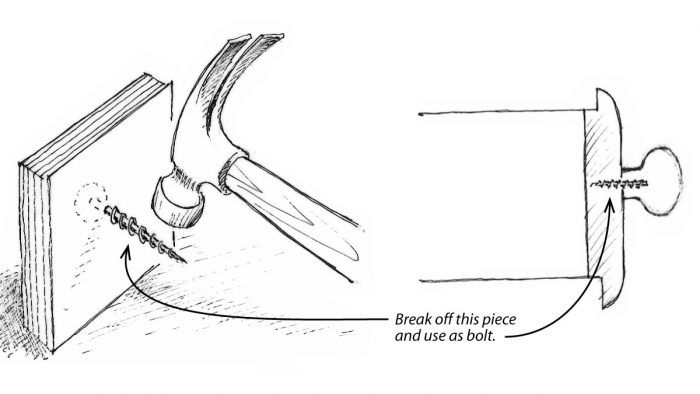 Recently, I had a callback on a cabinet job. A few of the wooden knobs for the cabinet doors and drawers had come loose, their screws stripped out because their machine-thread bolts lacked metal inserts. I knew I could easily fix the problem by installing hanger bolts in place of the inadequate originals. But I was some distance from a decent hardware store, and I wasn't looking for this fix to eat up an entire day. Then a solution hit me.
I grabbed some drywall screws and ran them through some scrap plywood, as shown in the drawing. Then I hit each one with a sharp hammer blow. The brittle screws easily snapped off and were now the perfect size to thread into the holes in the cabinet doors and drawer fronts. After the bolts were installed, I threaded the knobs onto them. The coarse threads of the drywall screws bit deep into both cabinet and knob, holding tightly. This trick worked so well that I replaced all the old bolts so that I wouldn't have to make another trip to fix the rest of them.
Mark McDermott, Fairview Park, OH
Edited and Illustrated by Charles Miller
From Fine Homebuilding #134