Design
Deliberate Neighborhood
On Martha's Vineyard, a co-housing project sets an example of sensitive development, affordable housing and community building.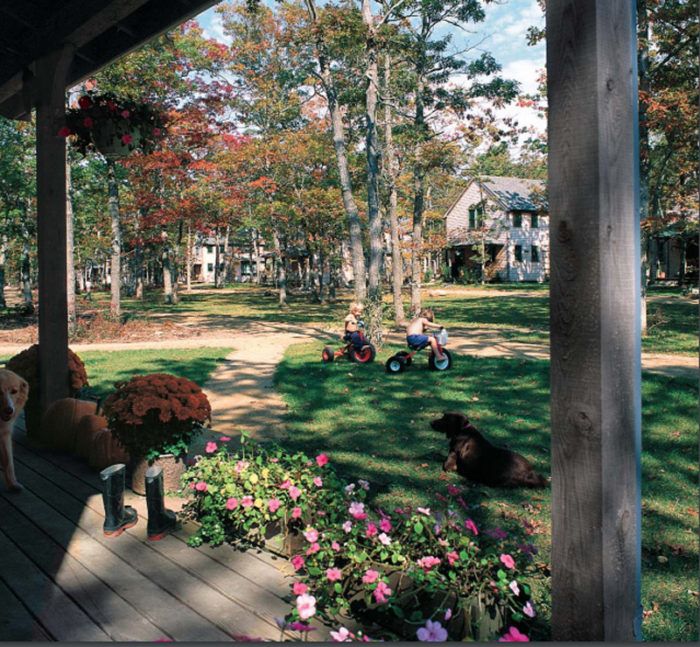 Summary: Co-housing communities — small, deliberately planned neighborhoods of 12 to 35 homes — offer an alternative approach to land development. Here a builder explains how his company's participation in a co-housing project in an area with high land costs and a shortage of affordable housing produced a viable, thriving community that is ecologically responsible and economically diverse.
Harvey Arden, who edited the writings of Native American activist Leonard Peltier and wrote the book Wisdomkeepers, once visited a Lakota tribal elder who had no telephone. Arden knocked on the door, and when it opened, he said to the old man who answered, "Hi, I'm Harvey Arden." The elder said, "Come on in. I know why you're here. You white folks lost all your instructions, and you've come to get ours." Co-housing is a new set of ideas for making good neighborhoods in a culture that has lost its instructions and values about housing.
Like many beautiful places, Martha's Vineyard has a serious affordable-housing crisis. Our problems are not unique, but they are intensified by a wildly inflated real-estate market and by fixed boundaries. As my colleague Derrill Bazzy says, "There's no down the-road on an island." The shortage of good housing for residents of moderate income endangers the island's diversity, charm, social health and economic prosperity. We've done well with the preservation of open space, but making progress with affordable housing is like trying to turn around an ocean liner in a sea of molasses.
Far too often, development has been an ugly word and has had unfortunate results. But that doesn't have to be the case. When you think about development, ask the following question first: Are you proposing to invent something that the community needs? If not, why bother? Martha's Vineyard needs high-quality affordable housing for working people, but other community needs are also linked to this issue:
• Open space preserved in perpetuity.
• Restoration of agricultural land.
• Areas for businesses to locate where they will not contribute to strip development.
• Community systems for converting human waste to nutrients so that it doesn't foul our one and only aquifer.
• Neighborhoods that encourage a level of social interaction.
What is co-housing?
Co-housing, a Danish housing concept developed in the 1970s, may be a way to satisfy all these needs at once. Co-housing communities are neighborhoods of 12 to 35 homes. Houses are tightly clustered, and cars are relegated to the perimeter. There are extensive community facilities, usually anchored by a common house where residents share a few meals a week, where guests can stay and where a variety of activities takes place. The common house is not only a community hub; it also provides residents with space not needed on a daily basis, thereby allowing individual homes to be smaller. Another fundamental principle of co-housing is that the residents of a new project are the developers. They make decisions—such as size, spacing and number of houses—as a group, and the process of doing so creates community bonds.
Some years ago, during a talk about Vineyard housing, I suggested the potential of co-housing. Two couples approached me after ward and said, "This is just what we need here. Why aren't we doing it?" I replied, "I've just been waiting for a few people like you. Let's go." That was the beginning of Island Co-housing, and soon after, a core group of households hired our design/build company, South Mountain, to conduct a land search, to facilitate development of the group, and then to design and build a deliberate neighborhood.
For more detail and photos, click the View PDF button below.
View PDF