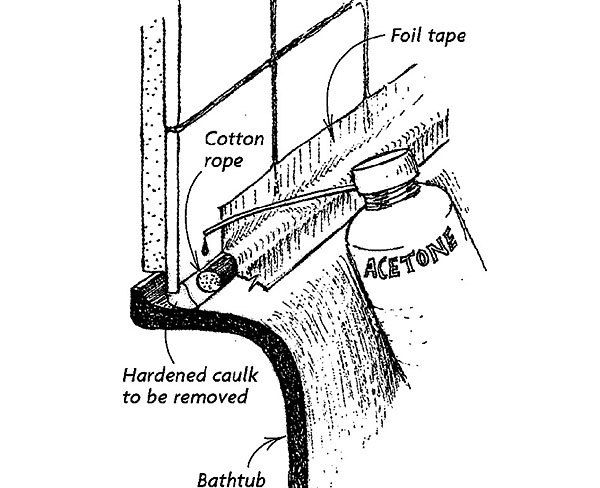 I recently had to remove some old caulk from ceramic tile that would be in a prominent place over a new lavatory. I used a sharp chisel, but the tough old caulk still pulled bits of the glaze right off the tiles — completely unacceptable.
Then I had thought No. 1. I remembered that acetone would soften old caulk. Problem is, using a rag to apply it just moistens the surface of the bead. Then I had thought No. 2. What if I saturate some toilet paper with acetone and hold it against the caulk bead with some foil tape overnight? I tried it, and to my delight, the old caulk had the consistency of soft cheese the next day. It was easy to remove with a razor scraper and to clean up the last bits with an acetonesoaked rag.
My next job is going to be removing the caulk along the edge of a bathtub. The drawing shows how I'm going to do it. Instead of toilet paper, I'll use an absorbent length of cotton rope, which I will either soak before putting in place or douse as I go along. I think the soaking method will be just the ticket for vertical caulk joints.
By the way, acetone fumes are flammable and dangerous to breathe. Use this trick only with excellent ventilation. And be aware that acetone can damage plastics, latex paint, and some fabrics and wallpapers. I think this technique is best suited to removing caulk from ceramic tile and glazed cast-iron surfaces.
David Edmonston, Cabin John, MD
Edited and Illustrated by Charles Miller
From Fine Homebuilding #141