Design
A Coastal Remodel Triumphs Over Limits
Persistent homeowners prevail over costs and coastal regulations.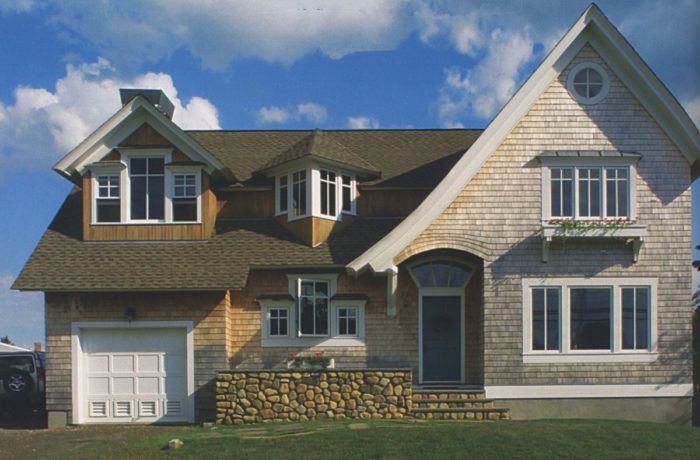 Synopsis: Duo Dickinson talks about the restrictions and regulations that he and the homeowners faced while remodeling a  house in Westport, Connecticut. The new 2,800-sq. ft. home took advantage of the original home's plan by recycling the two-story portion and reusing the footprint of the one-story wing. Modest material choices in most of the house left money for an elegant kitchen. 
Five years ago, I got a call from Damienne and Vlad Zeman of Westport, Connecticut. They had bought a starter home a few years earlier and needed design services for a simple renovation of that house. It was on a nice site in Saugatuck Shores, a coastal New England neighborhood of previously unheated vacation shacks slowly being rehabbed into year-round dwelling on postage-stamp-size lots facing saltwater.
Renovation becomes reinvention
Initially, their needs were relatively modest. They wanted to raise their home to the code-compliant flood level of 13 ft. above mean high tide, to renovate the home's interior and to redecorate its exterior. The house's plan formed a modified "T" shape; the main section had bedrooms above and living space below with a simple one-story wing launching off the side containing the kitchen and garage.
During the design process, the Zemans ultimately decided to address their long-term housing needs, opting for a "forever" house vs. a simple renovation. This decision was due partly to their changing needs; they already had one child, and another was on the way by the time construction commenced. The change in plans meant the initial budget grew, and the impact of our expanded design services had to fall within strict local and federal regulations.
Because of our pre-existing, nonconforming status and budgetary concerns, we recycled the two-story portion of the building. The other wing was to be renovated into a more functional kitchen and garage with a new master suite above.
Homeowners unwind the red tape
As with most waterfront homes in heavily developed areas, virtually every aspect of this home was barely within the building and zoning requirements that would have been imposed on a naked lot. We simply could not have built a new home of this design in this location.
Zoning regulations allowed a small expansion of the existing footprint. Similarly, the height of the building was limited to 26 ft.; the height restriction had to take into account that we were raising the house approximately 3 ft. above its current height to comply with the Coastal Area Management Code.
Custom construction becomes the obvious choice for anyone wanting to build in this context. How do you deal with such extraordinary budgetary and regulatory limits and still create something special? The answer is simple: the investment of time. By investing their own time into working out solutions, homeowners can often solve problems that could be more quickly dealt with by an infusion of raw manpower (and thus dollars).
Because our firm was working on an hourly basis, our time was tightly monitored. Fortunately, the Zemans took the bull by the horns, tirelessly massaging zoning and building department issues through a maze of hearings, meetings, correspondence and informal discussions among engineers, surveyors, town officials, the builder and me. Their aggressive attention to this part of the process allowed us to obtain building permits and approvals in a relatively short time.
Similarly, they assaulted their strident budgetary limitations in a variety of ways. First, they picked C & J Construction of Madison, Connecticut, an out-of-town builder that offered a better price because they were located outside of  Fairfield County's aggressive pricing; second, they directly purchased all the custom millwork, many of the lighting fixtures and much of the hardware. The homeowners also threw themselves into the process of writing checks to suppliers, being responsible for deliveries and following up on loose ends.
View PDF