Angled plug mold is easier on the knuckles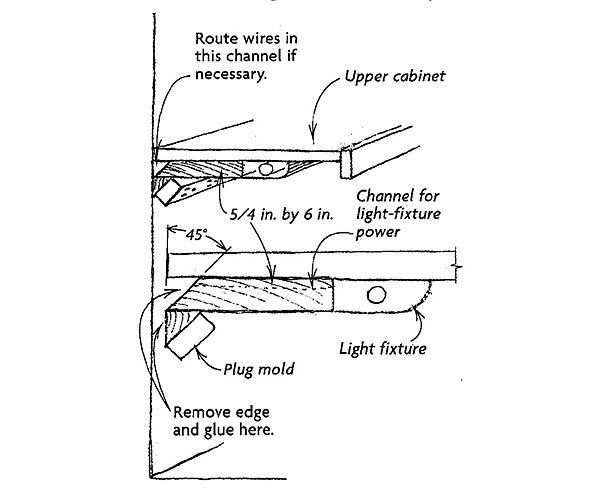 Like Sarah Susanka, I prefer to use plug mold in kitchens rather than ruin the beauty of my backsplash with a series of outlets every few feet. As Sarah explains in her "Drawing Board" column (FHB #141, pp. 38-42), plug mold is a series of outlets ganged together in a metal housing. Tucked beneath the upper cabinets, plug mold is a lot less obtrusive than standard outlets. But mounting plug mold tight to the upper cabinets creates another problem: Your knuckles are in for a potential beating every time you unplug an appliance. I solved this problem by mounting the plug mold at a 45° angle.
We were using 1-in, thick undercabinet light fixtures and wanted them toward the front of the cabinets. So we attached the fixtures to the edges of some 5/4-in. by 6-in. pine mounting brackets. But before doing so, we ripped the edges off one side of the pine boards at a 45° angle, and then glued those triangular strips to the other sides of the boards. These angled surfaces became our mounting base for the plug mold, and the space behind it the wiring chase.
Michael Parker, Los Gatos, CA