How-To
Interior vs. exterior foundation drains
We need to install a drain system on an existing home. The recommendations we've gotten have all advised a drain system inside the basement, not outside. I have always thought that outside drain systems were more effective. What is the best way to go?
– Mike Schwarzbeck, Mount Prospect, IL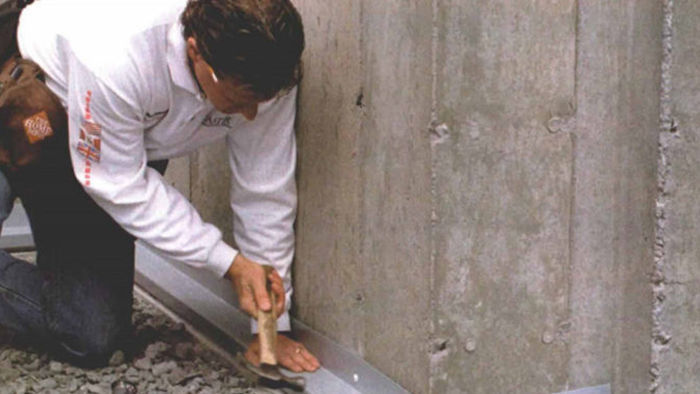 Larry Janesky, president of Basement Systems in Seymour, Connecticut, responds: For an existing home with a wet basement, several things should be addressed before any drainage system is installed. First, make sure the grade is pitched away from the house to drain away surface water effectively. The grade should not be any closer to the siding than 6 in. because of rot and termite concerns.Next, extend the outlets of the downspouts away from the house, and keep gutters free of debris to help keep water away from the foundation. Although these two steps nearly always help, they rarely keep a wet basement completely dry, and a drainage system should be considered.
The two basic approaches are interior or exterior systems. The installation of an exterior system requires the excavation of soil around the entire house down to the bottom of the foundation footing. This process can be disruptive because landscaping, driveways, sidewalks, porches, decks, etc., have to be removed and replaced.
In addition, the soil taken out of the hole has to be stored in the yard temporarily, which is usually a huge mess. Once excavation is done, the footing drain can be installed (see Keeping a Basement Dry). The system then has to drain to a sump pump inside the house or by gravity to daylight if the grade permits, which would require an additional trench.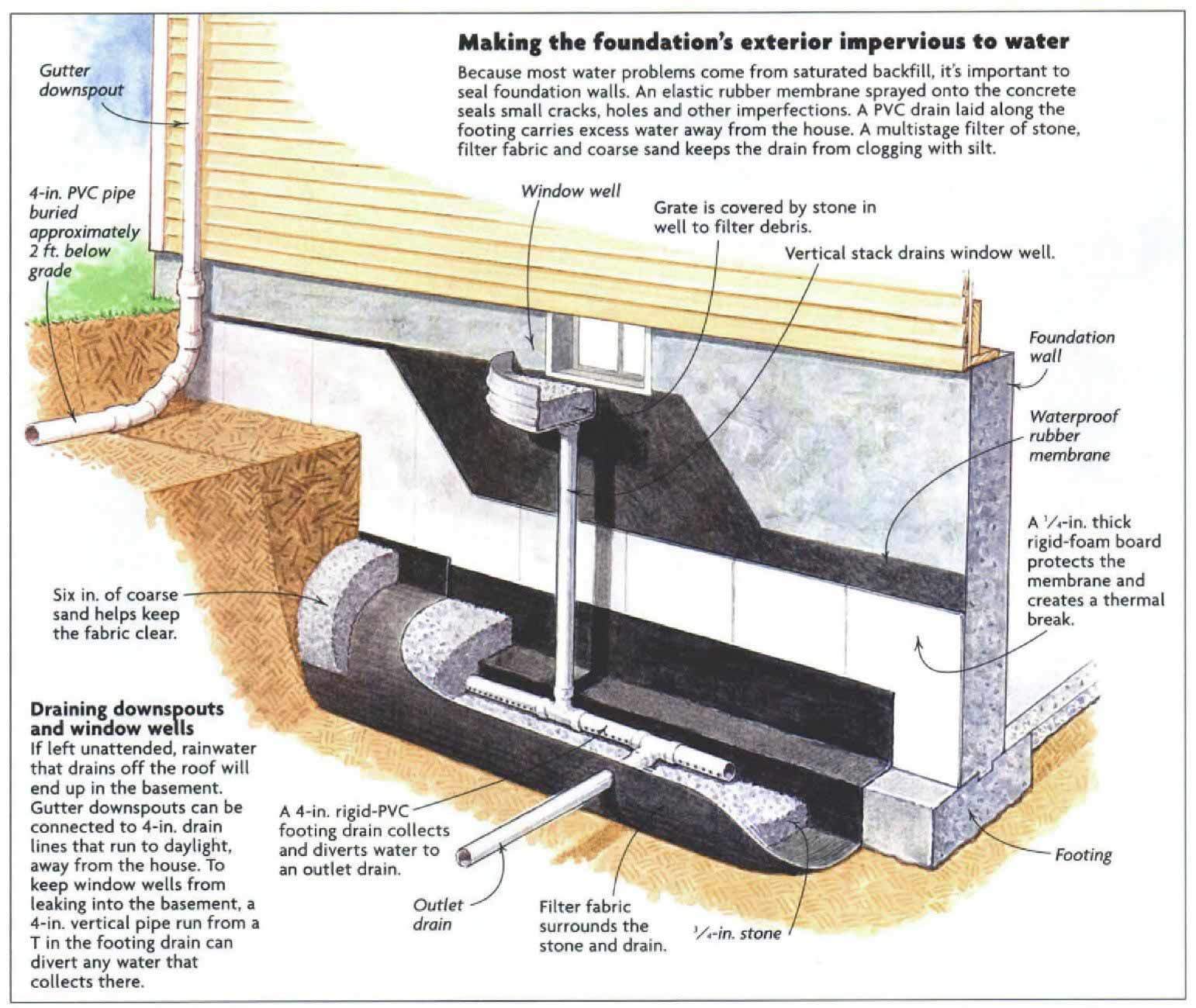 Exterior drainage systems are not easily serviced. If something goes wrong, it's tough to find and fix the problem easily. Last but not least, the cost of an exterior system can be many times greater than that of an interior system. For all these reasons—cost, mess, difficulty in servicing—I do not recommend exterior drainage systems on existing houses except in extreme cases.
Interior footing drains are the best solution for most wet basements.With this type of system, the edges of the slab are removed. Next, a trench is dug around the perimeter of the foundation. Perforated pipe (usually 4 in. dia.) then is placed in the trench and covered with crushed stone. Concrete then is poured over the trench.
Usually, interior systems drain to a sump pump, but in rare cases, they can be run to daylight. Sump pumps have come a long way. Some super systems feature sealed lids with built-in floor drains, alarm systems and a host of other features. I also recommend a battery backup to keep the system working should the power fail.
Other hybrid interior systems that I recommend are less prone to clogging and are less disruptive than a round-pipe system. These systems also take water from along the walls, which can be crucial if a wall cracks, a pipe penetration leaks or a window well floods unexpectedly. Whatever system you choose, put drainage around the entire basement, even if only part of the basement seems to be leaking. If fixing your basement isn't a project that you're comfortable doing, call a basement-waterproofing professional.