Design
Red House
In Wyoming, an updated version of an old farmhouse adds up to an affordable home for a young family.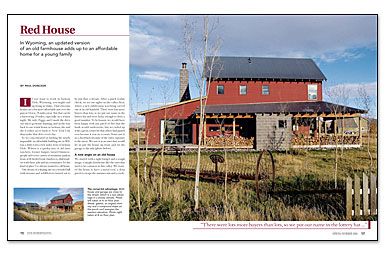 Synopsis: Using a variety of traditional and modern materials, architect Paul Duncker realized his slightly modified dream of designing and building a classic-with-a-twist farmhouse in a Wilson, Wyo., valley. The farmhouse uses an eclectic mix of materials both inside and out. The walls are made of SIPs and are covered on the exterior with split-faced concrete block, gray board-and-batten siding, and red-cedar clapboards. The roof (also made with SIPs) is corrugated steel. The kitchen is outfitted with steel countertops, red-birch cabinets, and a radiant-finished concrete floor. The article also includes a sidebar about the main drawback of the author's geothermal heat-pump system.
If you want to work in Jackson Hole, Wyoming, you might end up living in Idaho. That's because houses are a lot more affordable just over the pass in Victor, 24 miles away. But that can be a harrowing 24 miles, especially on a winter night. My wife, Peggy, and I made the drive one day to go house-hunting, and on the way back to our rental house in Jackson, she said she'd rather move back to New York City than make that drive every day.
So we concentrated on finding the nearly impossible: an affordable building site in Wilson, a little town a few miles west of Jackson Hole. Wilson is a quirky mix of old-time ranchers, former hippies turned business-people and every variety of mountain junkies from well-heeled trust-funders to dishwashers with three jobs and six roommates. It's the kind of place I've always wanted to call home.
Our dream of a sloping site on a wooded hill with streams and wildflowers turned out to be just that: a dream. After a quick reality check, we set our sights on the valley floor, where a new subdivision was being carved out of an old hayfield. There were lots more buyers than lots, so we put our name in the lottery hat and were lucky enough to draw a good number. To be honest, we would have been happy with any patch of dirt that the bank would underwrite, but we ended up with a great corner lot that others had passed over because it was on a corner. Some saw it as a drawback because of the extra exposure to the street. We saw it as an asset that would let us put the house up front and set the garage to the side.
A new angle on an old house
We started with a tight budget and a rough image: a simple farmhouse like the ones that used to be common in this valley. We wanted the house to have a metal roof, a deep porch to escape the summer sun and a crackling fireplace to combat the winter chill. This image led us to a two-story gabled structure with bedrooms and bathrooms upstairs; and the kitchen, sunroom, laundry and pantry below. A shed-roofed living/dining room abuts the rear of the house.
Our public living/dining room is wide open to the outdoors and to the neighborhood. We can drink in the last rays of the setting sun through the large west-facing windows, and our friends can wave to us while we sit at the table as they cross-country ski along the adjacent bike path.
For more photos, drawings, and details, click the View PDF button below:
View PDF