Design
A House for Now and the Future
A hillside home with a simple, barrier-free floor plan features an exercise pool in an enclosed courtyard.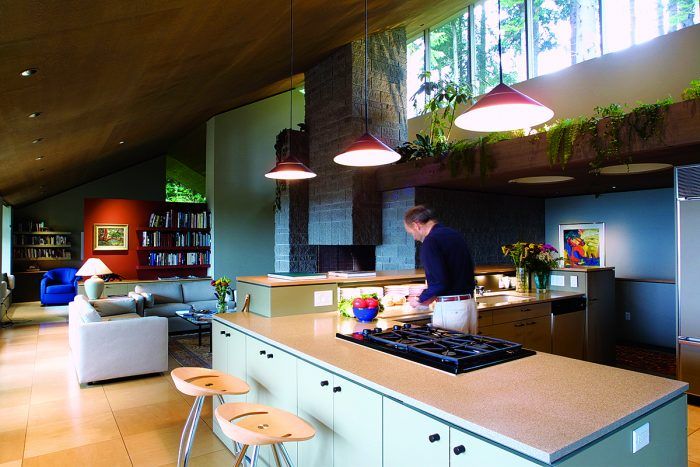 Synopsis: A hillside home with a simple, barrier-free floor plan features an exercise pool in an enclosed courtyard.
Here in the Northwest, winters are long, wet and dark, the perfect environment for a raging case of cabin fever. After 20 years in a small house with tiny windows, my wife and I wanted a new home with plenty of space, a strong connection to the outdoors and lots of natural light. With a nod toward the future, Anne and I also wanted most of the house to be wheelchair-accessible, which created a more spacious house with wide doors, generous hallways and more space between furnishings.
Our requirements were simple. We don't have kids, so our basic needs were straightforward: a master bedroom and bath, a guest suite, living/dining/kitchen areas, a small study and support spaces such as a laundry and garage. We also wanted an indoor pool.
Other requirements were more subtle. Our lifestyle is fairly informal, so we didn't need separate dining or living rooms for entertaining. All spaces were meant to be used all the time. We also wanted to use straightforward materials in a natural manner.
I've always admired the National Parks architecture in the Northwest, from the grand lodges to the smaller structures such as picnic shelters and restroom facilities. These smaller buildings frequently were constructed with a high base of native stone topped with log walls and a heavy roof. This practical architecture looks at home in a natural setting and resists deterioration by holding the wood walls well above ground level. We used the same concept for our house, but instead of stone, we built our wooden house on a tall base of concrete block.
The house is topped with a standing-seam metal roof, which helps to shed the needles that fall from the surrounding evergreen trees. Inside, rough-sawn cedar plywood covers the house's ceiling, which is separated visually from the walls by a dark, recessed band of trim. The dark trim band allows the plywood to read as one unbroken surface that runs from one end of the house to the other. This effect, combined with ample use of glass in the main living spaces, gives us the feeling of living in an open-air pavilion.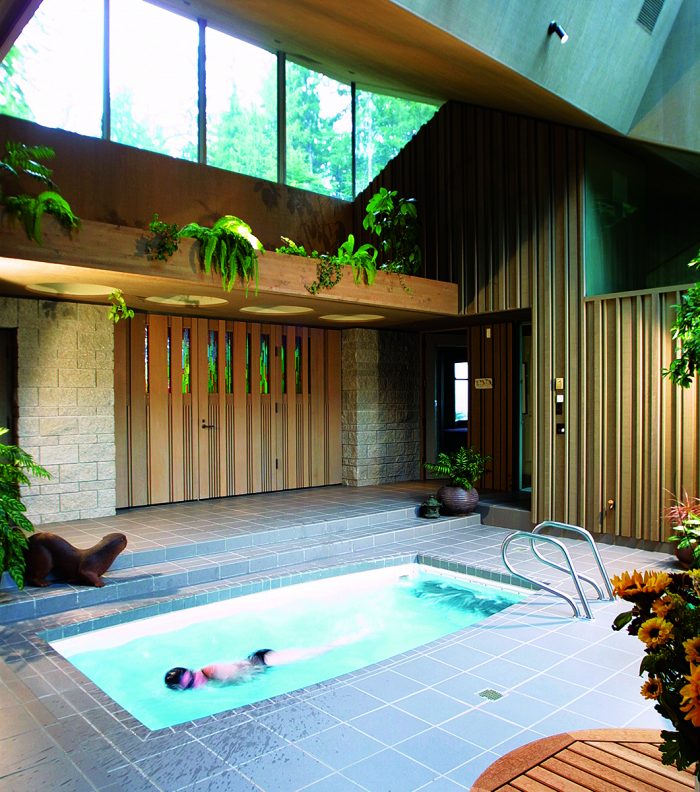 A court for all seasons
The interior court was conceived as an indoor/outdoor space and separates the guest area from the main living spaces. But other intentions are more subtle. As a part of the entry, the court combines elements of the exterior with the warmth and shelter of an interior space. During our long, gray Northwest winters, this space is a welcome retreat for swimming and relaxing in the abundant natural light that streams in through the huge skylight and south-facing windows. During warmer weather, windows in the south wall slide along the outside of the house to create a 15-ft. wide opening. Similarly, the three sections of the front door fold back into a 12-ft. wide opening that looks back into the trees.
For more photos, drawings, and details, click the View PDF button below:
View PDF