Centering a Holesaw with Drywall Screws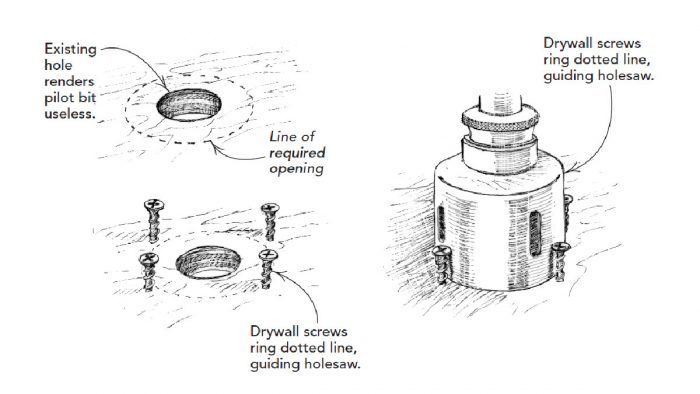 Occasionally, I am faced with the challenge of enlarging an existing hole in the basement or crawlspace subfloor for electrical or plumbing services. In the past, I have screwed a piece of 1/4-in. plywood over the hole so that the pilot drill would have a place to center and stabilize the holesaw until it became embedded in the wood. I have noticed that once the saw is started in the wood, there is no need for the pilot drill. On my last job, though, it was 10:30 p.m., and there was no 1/4-in. plywood in sight.
Considering the limited need for a pilot drill, I decided to try to solve my problem with something I had in abundant supply: drywall screws. First, I traced the diameter of the larger holesaw outside the existing hole, as shown in the drawing below. Next, I ran four drywall screws partway into the subfloor just outside the new layout. I then placed the holesaw within these screws and drilled the larger hole. The drywall screws guided the outside of the holesaw, eliminating the need for the pilot drill.
M. Diener, Franklin Park, IL