How-To
Rooms Without Walls
Ceiling heights define spaces in an open floor plan.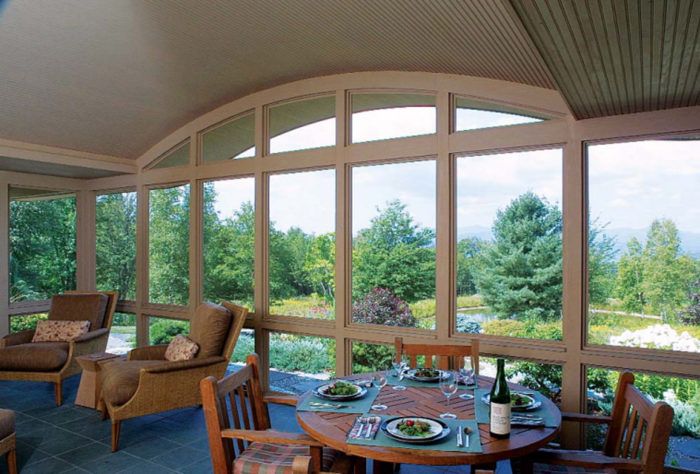 Synopsis: One of America's leading residential architects explains how to vary the ceiling heights in a house to define spaces within an open floor plan. Photos and drawings of a dramatic new home in Vermont illustrate the lessons.
Almost a decade ago, I met Ed and Maureen Labenski. They were proud owners of a beautiful prairie-school home designed by William Purcell in 1910. I enjoyed meeting them immensely and was delighted a few years later when they asked me to design their retirement home in Vermont.
They'd learned a lot about architecture from their Minneapolis dwelling and had come to appreciate the difference that good design can make to the comfort of a home. They knew that they needed a very different floor plan than the more formal one that they were used to. The Labenskis wanted an open layout with plenty of natural light and views of the surrounding landscape and the mountains beyond.
Like many empty nesters, the Labenskis loved the idea of building only the spaces they would use every day. The only formal space they needed was for a small collection of antiques; they didn't even need a formal dining room. When they entertained, they wanted to be able to do so informally, using the same table they use for everyday meals.
In designing a house with this level of openness, it is important to give each activity area some spatial definition because there are no walls to accomplish that task. My favorite technique for doing this is to use differing ceiling planes. Because it's relatively simple for a builder to lower sections of ceiling from the joist plane above, I start with an 8-ft. or 9-ft. ceiling, then drop soffits and ceiling areas to define the spaces.
In this house, I employ many strategies to modulate ceiling height. Although you aren't consciously aware of those visual cues you don't stop and say, "Aha! I'm moving into a new area now!" they have significant impact at a subliminal level. The eye notices this change in height and subtly recognizes the distinction between one space and another. This kind of awareness is similar to that of stepping through a gateway or arched opening.
In the short hallway connecting the living/dining area with the master bedroom, this definition is quite distinct. Here, I lowered the entire ceiling to the height of the trim band. Because the transition hall is a relatively narrow space, it creates the sense of moving through a compressed zone, like a tunnel, before the release of moving into another major space. If you stop to think about it, we experience most things through contrast. We know the weather is hot or cold by comparing it with what we've felt previously; so it is with space. Compressing the ceiling plane in the hall creates a strong contrast between the lowered hallway ceiling and those of the adjacent rooms, making the rooms feel taller. If every space in the house has the same ceiling height, there is nothing to compare it to, so it feels monotonous.
For more photos and details on using ceiling height to distinguish rooms, click the View PDF button below. 
View PDF