Design
A House Rebuilt with Mixed Motifs
From the ashes rises a Mediterranean-style home with eclectic details, commanding views, and comfortable rooms.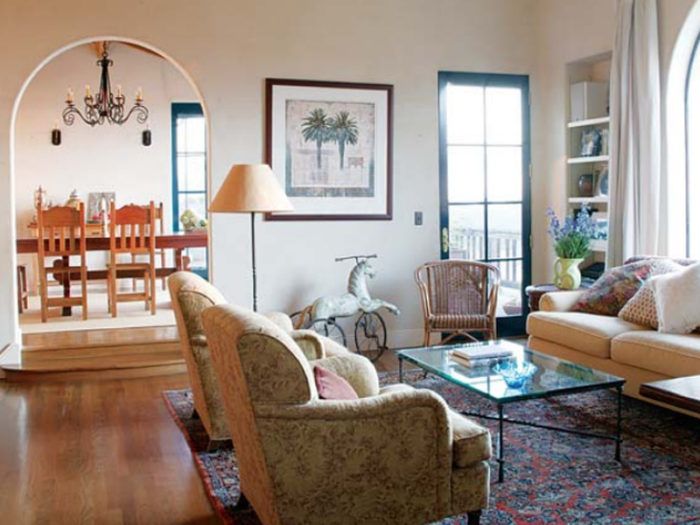 Even before it was leveled by the infamous Oakland, Calif., wildfire of 1992, Will and Julia Mies's house was hardly the perfect home. Built in 1929 on speculation, the Tudor house was designed for a flat site, but there it had sat, perched on a hillside, two floors above street level, even as the land descended an equal distance to the backyard. While the views were sweeping, the traditional floor plan and smallish windows didn't take full advantage of them.
The fire brought loss, but it also opened the way for a house that met Will and Julia's needs and at the same time complemented its remarkable site.
Starting with a blank canvas
After the fire, the Mieses contacted architect Barbara Winslow, whose firm, JSW Architects, is renowned for architecture created around basic design principles.
Because the Mieses were happy enough with the previous house, they never indulged themselves in dreaming about a better one. When asked to recall the best aspects of the house they had lost in the fire, they could list only two: the fireplace and the views. The wish list they gave to Winslow was short: comfortably sized, open, airy rooms plus some smaller, private spaces. And they wanted full access to the front yard and the backyard.
Their marching orders were exactly what Winslow wanted to hear because all of it was in keeping with her firm's conviction about what makes good architecture. As Winslow developed the plans, her clients became more enthusiastic. That kind of appreciation is pure rocket fuel for most architects, and it propelled Winslow into the project. Their collaboration became so compelling that Winslow remained active long after the building itself was designed. She didn't stop until she had helped the Mieses shop for tile and fabric.
From the street, a one-floor house
Of all the resources at Winslow's disposal, none was more powerful than the land she had to work with. She took two bold moves. First, she restored the balance between house and street. She allowed the building to rise only one story in the front and laid out the rest of it to cascade down the hill in back. She also moved the house as close to the sidewalk as possible, getting rid of a bland front yard and replacing it with a smaller, intimate courtyard. The change was dramatic. The mass of house facing the street is much less imposing than was the old Tudor, so it seems friendlier and more inviting.
For more photos and details on this rebuild after a wildfire, click the View PDF button below. 
View PDF