How-To
A Primer on PVC Pipe
It's easy to work with, but you've still got to choose the right fittings and follow some basic rules.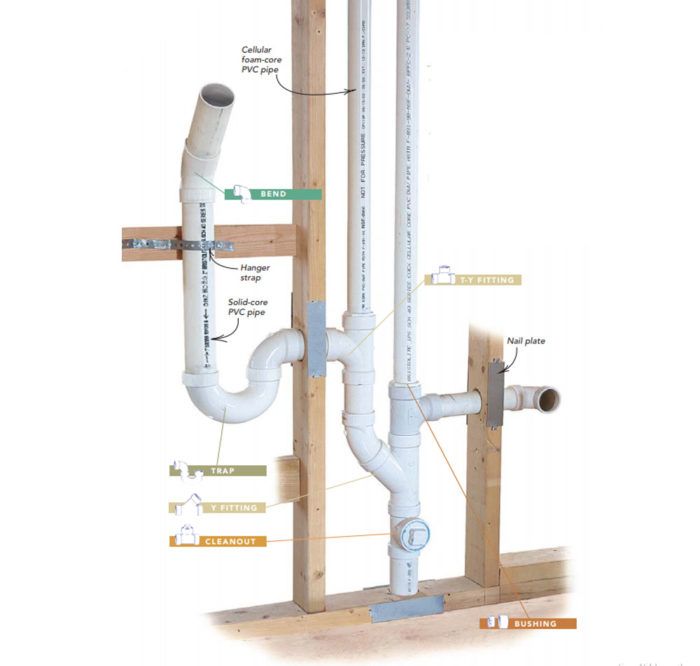 Synopsis: Although PVC pipe is fairly easy to work with, there's more to it than some think. These tips and techniques from a professional plumber will ensure that your cuts are square, your joints are tight, and your pipes won't clog over time.
My neighbor said in a worried tone, "The tub drain in my bathroom is backing up." "All the time?" I asked. "No, just when we flush the toilet."
I knew instantly this job would be more than just snaking out a clog. An hour and several bucket loads of unspeakable stench later, my suspicions were confirmed. A rough edge that had been left at one of the joints in the PVC drainpipe had snagged a bit of paper, which over time had escalated into a full-blown, nasty clog. The only way to fix the problem properly was to replace the culprit fittings. Prepping the pipe is just one place a PVC installation can go wrong. The first step is choosing the correct fittings. Here are some tips to keep things flowing smoothly after that.
Cut PVC pipe as square as possible
One of the joys of PVC pipe is that it's easy to cut. Just about any saw works fine. If I have the room and I'm cutting a lot of pipe, I set up a chopsaw, which gives me a square cut without a lot of burrs. While a reciprocating saw makes a quick cut, extra care has to be taken to keep it square. As a rule of thumb, I try to keep cuts within 1 /8 in. of square, which is especially critical for smaller pipe.
A PVC saw also makes a good cut, and its wide blade is easier to keep square. These saws cost about $15 and have replaceable blades. In a pinch, you also can use a hacksaw. Its small teeth minimize the amount of burr left on the pipe, but a hacksaw is the toughest saw to keep cutting square.
These options are great when there's room for a saw, but what about in tight quarters or when the pipe that needs cutting is close to other pipes or wires? In these cases, I pull out a cable saw, which is a length of thin wire cable with plastic handles at both ends. Just slip one of the handles around the PVC pipe and pull the cable back and forth perpendicular to the pipe with smooth, easy strokes. The friction of the cable on the pipe literally melts through the PVC. Believe it or not, you can do the same thing with a length of mason's twine, but it takes a lot longer.
Smooth the edges of the pipe
Cutting PVC pipe always creates burrs on both the inside and outside edges of the pipe. As my neighbor can attest, removing burrs from the inside of the pipe is absolutely necessary to keep waste flowing smoothly to its final destination. Burrs on the outside of the pipe can prevent a proper fit and glue joint.
For more photos and details on PVC pipe, click the View PDF button below. 
View PDF