Design
Fire-Wise Construction
Building strategies that may save your house from wildfire.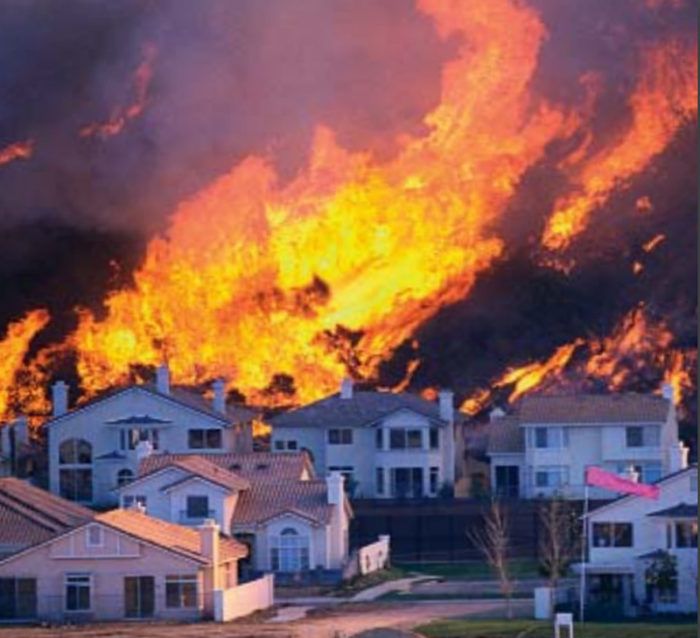 Synopsis: Even the smallest tasks such as pruning, removing dead leaves, and keeping your gutters clean, can play a key part in wildfire protection. Learn the most vulnerable components of your house, and how to protect them. This article applies fire protection to nearly every aspect of a household, both inside and outside. Read what can be done to ensure maximum fire safety from your porch all the way to your property line.
A long with most people, we watched on television as devastating wildfires ripped through Southern California last fall.These fires moved faster than fleeing cars and leapt multi-lane highways, threatening even more homes while frustrating firefighters.
So much happened all at once that it was hard not to be overwhelmed by the magnitude of the event. And it was even harder knowing these losses, more than 3,400 homes, could have been reduced significantly. It is said that lightning doesn't strike the same place twice, but wildfires do. And if we are to live in these danger zones, the way we build our homes has to change.
Because it is nearly impossible to duplicate wildfire conditions in a laboratory, precise testing on materials and construction assemblies have not been done. But we still can make our houses safer by reducing things that burn with good landscaping techniques and noncombustible building materials.
A good site plan is your first defense against a wildfire
Consider fire defenses as a series of concentric spaces, or zones of managed landscape around your home. These zones act as natural breaks that can slow the spread of fire and don't have to look like a barren wasteland.Consult your local forest-service agency (www.fs.fed.us) for help with selecting plants that have natural fire resistance.
Long-term maintenance is also important. You should eliminate ladder fuels—vegetation that provides a path for fires to climb from the ground to the treetops—by removing tree branches that are within 12 ft. of the ground. Remove dried vines from the side of the house, keep gutters clean, prune shrubs, and remove dead leaves to eliminate potential fuel sources. Also, you should store fire-wood and flammable fuels at least 30 ft. from the house.
Noncombustible materials won't make a house fireproof
A noncombustible material like metal roofing or siding doesn't burn. But metal is an excellent heat conductor. During an intense fire, enough heat can be conducted through the metal to ignite the material behind it.
In conjunction with noncombustible materials, fire-rated assemblies can provide additional protection. A fire-rated assembly is a combination of materials forming a component of a building, such as a roof or wall, which resists ignition at the same time it is protecting the rest of the structure.
Hourly fire-resistance ratings are a function of the assembly and generally require the use of a noncombustible membrane (gypsum or masonry). The American Society for Testing and Materials (ASTM) has a test to determine the hourly rating of an assembly (E-119 Fire Tests of Building Construction Materials; www.astm.org). It exposes an assembly to heat and flame on one side and tests for heat transmission, burn-through, structural integrity, the ability to withstand water pressure from a fire hose, and the assembly's capability of carrying its own load.
For more photos, diagrams, and information on how to prevent wildfire damage, click the View PDF button below. 
View PDF