Design
The New Forest of Man-Made Trim
Alternative trim may not be cost-effective when you buy it, but it becomes cost-effective after you've saved money on maintenance or replacement.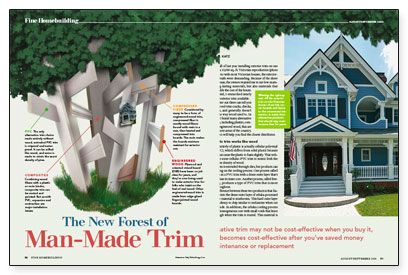 Synopsis: According to many builders, wood trim isn't what it used to be. Today's wood trim cracks, warps, checks, and doesn't seem to hold paint the way it used to. In this article, we examine four popular alternatives: PVC, composites, compressed fiber, and engineered wood (OSB and plywood). We rate each material according to workability, available sizes, cost, and warranty. All four have advantages, but only one is right for you.
I spent all of last year installing exterior trim on one house, a 10,000-sq.-ft. Victorian reproduction. As with most Victorian houses, the exterior-trim details were demanding. Because of the sheer scale of the house, the owners wanted me to use low-maintenance, long-lasting materials, but also materials that wouldn't double the cost of the house. Before I started, I researched nearly every type of exterior trim available.
Any carpenter out there can tell you that today's wood trim cracks, checks, warps, twists, and generally doesn't hold paint the way wood used to. In my research, I found many alternative trim products, including plastics, composites, and engineered wood, that are available in most areas of the country. Manufacturers will help you find the closest distributor.
Some plastic trim works like wood
Trim made entirely of plastic is actually cellular polyvinyl chloride (PVC), which differs from solid plastic because of additives that cause the plastic to foam slightly. That technology allows some cellular-PVC trim to mimic both the weight and the density of wood.
All PVC trim is extruded through dies, but products can vary depending on the cooling process. One process called celuka results in a PVC trim with a dense outer layer that's more brittle than its inner core. Another process, called free-form cooling, produces a type of PVC trim that is more uniform throughout.
The first difference between these two products is that fasteners driven into the dense outer layer of celuka-processed trim cause the material to mushroom. This hard outer layer also has a tendency to chip similar to melamine when cut with a sawblade. In addition, the celuka cooling process creates a less homogeneous core with small voids that leave the edges rough when the trim is routed. This material is well suited for flat trim, though. Products manufactured using the celuka process include Royal Mouldings and Duraboard.
On the other hand, free-form PVC trim has a density almost identical to pine. Fasteners create dimples rather than mushrooms, and milled edges can be glass smooth. As with wood, the key to smooth cut edges is sharp carbide blades and bits.
I've found that the free-form type of PVC trim, such as Azek, is easier to work than wood. Because of its even consistency, it machines more like medium-density fiberboard (MDF): no knots, no grain, no warping or cupping. Each piece is exactly the same. Fastening PVC trim is also easier than fastening wood. Nails or screws can be driven extremely close to the edge or even into the ends without splitting (with PVC, there is no end grain). Filling holes is also easy. In fact, common toluene-base or acetone-base fillers work better with plastic than with wood because they create a chemical bond with the trim material.
For more photos, illustrations, and details, click the View PDF button below:
View PDF