Design
Breathing Fresh Air Into Bathroom Ventilation
Powerful, quiet exhaust fans and their smart switches have made it easy to avoid mold, mildew, and stale air in the bath.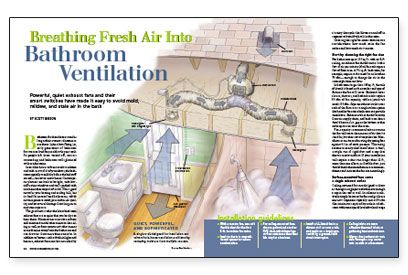 Synopsis: This overview of bathroom ventilation explains how to size and select a fan that's quiet and efficient. There are guidelines for installing a bathroom ceiling fan, along with a discussion of smart switches that keep the fan running after you leave the room.
Bathroom fans have been around as long as their owners' reluctance to use them. Like a low-flying jet, early generations of bathroom fans were so loud they could rattle your teeth. So people left them turned off, mirrors steamed up, and bathroom walls glistened with condensation.
In an older house without much insulation and with a row of drafty windows, the bathroom typically would dry before the bad stuff started—but not in a new house. Contemporary houses are built to be tight, with low-infiltration windows and walls packed with insulation that stops drafts cold. That's good news for your heating and cooling bills, but it's bad for unventilated bathrooms, which now are prone to mold, poor indoor-air quality, and structural damage from long-term moisture exposure.
The good news is that the latest bathroom exhaust fans are so quiet that you barely can hear them. Homeowners can choose from self-contained models that mount in the ceiling or wall, or from remote units that mount some distance away from the bathroom and can draw air from more than one inlet. In addition to features such as built-in lights and heaters, exhaust fans can be controlled by circuitry that cycles the blower on and off in response to humidity levels in the room.
Choosing the right fan comes down to two considerations: how much noise the fan makes and how much air it moves.
Start by choosing the right fan size
For bathrooms up to 100 sq. ft. with an 8-ft. ceiling, an exhaust fan should move 1 cubic foot of air per minute (cfm) for each square foot of floor area. A 70-sq.-ft. bathroom, for example, requires a fan rated for no less than 70 cfm—enough to change the air in the room eight times an hour.
In bathrooms larger than 100 sq. ft., the rule of thumb is based on the number and type of fixtures the fan will serve. Enclosed water closets, showers, and bathtubs each require 50 cfm of fan capacity, while a jetted tub needs 100 cfm. Separate exhaust outlets over each of the fixtures or a single exhaust point that handles the entire bathroom can provide ventilation. Exhaust intakes should be away from air-supply ducts, and bathroom doors should have a 3 ⁄4-in. gap at the bottom so that makeup air can enter the room.
Fan-capacity recommendations assume the fan will move the amount of air that it's rated for, but that's not always the case. Manufacturers arrive at cfm ratings by testing fans against 0.1 in. of static pressure. This rating assumes a nearly ideal installation: a short, straight run of rigid duct and a cap that doesn't restrict airflow. If your installation will require a duct run longer than 12 ft., more than one elbow, or flexible duct, you should check the manufacturer's recommendations and increase the fan size accordingly.
For more photos and details, click the View PDF button below:
View PDF