Tools & Materials
Miter-Saw Blades
How much does a good cut cost?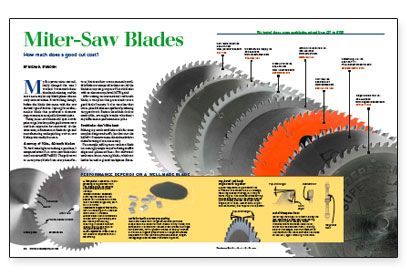 Synopsis: This survey of 10-in., 60-tooth blades looks at models that range from $27 to $129 and looks closely at their differences in cutting ability. In addition to explained blade terminology and cutting dynamics, the article offers tips for cleaning a blade, which also improves cutting.
My first power miter saw radically changed the way I worked. It was much faster than hand-mitering, and the saw's accuracy let my block plane take an early semiretirement. It wasn't long, though, before the blade that came with the saw showed signs of decline. I sprung for an aftermarket blade that produced a dramatic improvement at an equally dramatic price.
Today, miter-saw blades still span a wide price range, but the quality gap between most and least expensive has narrowed. At the same time, refinements in blade design and manufacturing make picking a miter-saw blade pretty murky business.
A survey of 10-in., 60-tooth blades
To shed some light on making a purchase, I compared seven 10-in. miter-saw blades that cost from around $27 to $129. The goal wasn't to survey every blade from every manufacturer, but to see how seven commonly available blades cut compared to their cost. All the blades in my test group are 60-tooth blades with an alternate-top-bevel (ATB) grind.
After cutting various materials with each blade, it was plain that great results cost a good deal of money. It also was clear that lower-priced blades are capable of producing very good work. Because these blades look so much alike, you might wonder why there's any difference in performance or price.
Sawblades don't like heat
Making top-notch sawblades calls for some complex design trade-offs, but that's not the half of it. Premium materials and meticulous manufacturing also are necessary.
For example, adding more teeth to a blade is a seemingly simple way of reducing scuffed edges and splintered faces. But additional teeth cause hotter-running blades, which can lead to burned or glazed workpieces. Excessive heat also quickens deterioration of carbide teeth and can warp the body of the blade. In addition, pitch buildup aggravates and accelerates the aforementioned problems.
At the manufacturing end, excessive runout from out-of-flat blade plates promotes overheating, especially at the sides of the teeth. Imprecise grinding leads to rougher, hotter cutting. But these concerns are all academic, unless the best materials are selected from a narrow range of suitable steels and carbide compounds. Basically, making a better sawblade involves an intricate array of balancing acts.
Will a good blade make an old saw cut better?
When I started my research, I intended to get a new saw, ask a bunch of manufacturers for their best miter-saw blades, start chopping, inspect the cuts, then see which blade cut the best. Still, recalling that my own sliding compound-miter saw produces excellent cuts with workaday blades, I wondered if this approach would reveal any perceptible differences.
For more photos, illustrations, and details, click the View PDF button below:
View PDF